O Rio de Janeiro é a cidade brasileira mais cobiçada por turistas de todo o mundo.
O Carnaval é um ponto forte e de grande destaque do Brasil, mas a verdade é que o Rio de Janeiro tem
muito mais para dar. Descobre!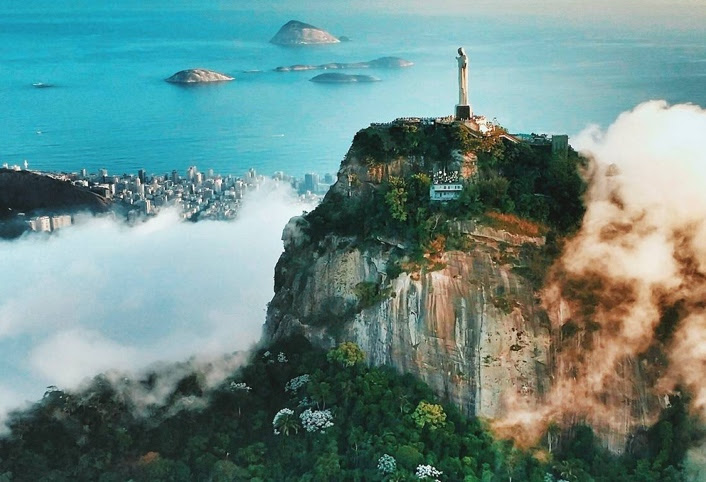 Rio de Janeiro | @ighelal
Happy Carnival! This week we're heading down south for the biggest party in the Americas. We could introduce Rio de Janeiro by talking about its sprawling golden beaches and unbelievably blue water. Or maybe we'll focus on the towering hills covered in tropical vegetation that dot its doorstep. Or perhaps the best place to start is with the rhythm of Samba music that carries through nightclubs and Carnival festivities. To tell the truth, it doesn't matter where you start as long as you arrive.
Rio de Janeiro, Brazil
S 22.91° / W 43.17°
What's in a Name?
The name Rio de Janeiro means "River of January". The story goes that Portuguese explorers who visited the spot in 1502 mistook the bay for the mouth of a river. However, some scholars argue that in 16th-century Portuguese, "rio" may have referred to any indentation along a coast. Either way, the name stuck.
@sylwiahoppetravel
Spring and Fall
The famous Carnival takes place every February, making this month the most popular time to visit. The streets fill with dancers, block parties, and nonstop revelry. But if you're looking for a quieter (and cheaper) season when you can truly enjoy all that the city has to offer, consider booking your trip in the fall (September-November) or spring (March-May). Temperatures will be slightly cooler than the hot, tropical summer, and you'll have more opportunities to explore the many faces of Rio.
Ipanema | @guersonb
At the Copa, Copacabana
Do you have Barry Manilow stuck in your head yet? Good. Copacabana beach is one of the more famous beaches in the world, but in recent years Ipanema has caught up as the popular Rio hotspot. These massive beaches are famous for a reason but don't miss out on lesser-known spots too. Our favorites include Prainha, the surfer's paradise, Aporador, the best spot to view the sunset, and the secluded Joatinga beach. Whichever beach is calling your name, the best way to experience Rio's golden coast is to hop on a bike and get to exploring.
Pedra da Gávea - Rio de Janeiro | @ricardosbarboza
Everything the Light Touches
Rio is a sprawling city, and at times it can get overwhelming. To take it all in, you have to head upwards. Yes, the famous Cristo Redentor and Sugarloaf Hill are usually the first viewpoints to come to mind, but they're not the only places in town to get a fantastic photo. The largest monolith in the region, Pedra da Gávea, often goes unnoticed but the hike to the top is one of the most rewarding. Pedra do Telégrafo is another point for creative photography. If hiking sounds better in theory than in practice, consider booking a helicopter ride or hang gliding to enjoy the same gorgeous views with none of the work.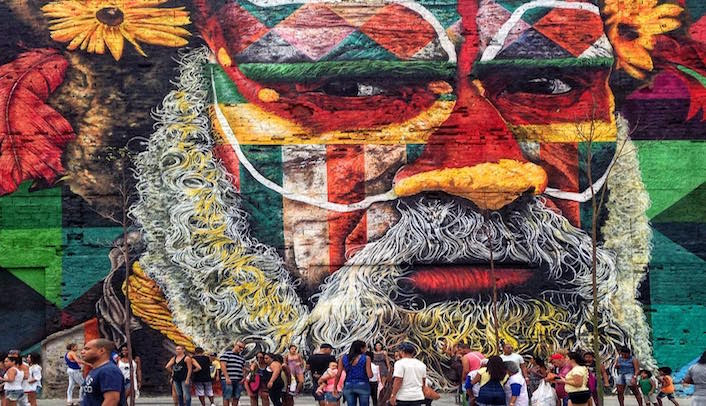 Boulevar Olimpico | @caumartini
It's Real in Rio
Brazilian culture is rich and diverse, and extends beyond the Samba clubs and Carnival festivities. While in town, make a stop by the Contemporary Art Museum and the Museum of Tomorrow to tour incredible exhibits. Also worth checking out is the Royal Portuguese Cabinet of Reading the largest collection of Portuguese texts outside Portugal itself. When in doubt, take to the streets of neighborhoods like Santa Teresa and Lapa to experience the colorful street art and captivating architecture.
Parque Lage | @marcelacimino
The Call of the Wild
Rio is a massive urban city, but don't miss out on the incredible nature opportunities in its backyard. The Tijuca forest is one of the largest urban forests in the world and features its own trails and stunning waterfalls. You can also explore the diverse Botanic Gardens, with its towering palm trees, or venture off the beaten path to Parque Lage for a quiet afternoon picnic.
Have You Been to

Rio

? Submit your photos for our Instagram!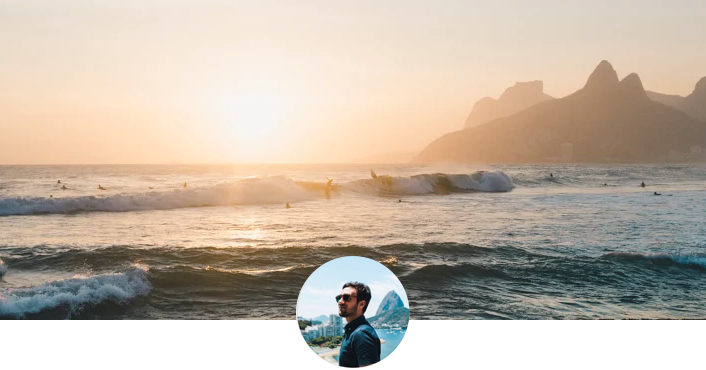 Arthur's Discovery
@arthurmartins
"There are a lot of amazing places to visit here in Rio, not just the classic beaches of Ipanema and Copacabana, or the Corcovado and Sugarloaf mountains. Rio's people are very welcoming, just being here you will realize how you can feel at home so easily! We like to enjoy every moment together with friends. And of course, I believe there are no big cities in the world without violence, we have it here as well, unfortunately. The best is to travel here with friends to enjoy the experience together. But the best advice is to look for the people to hangout with and enjoy everything."
@somostribonatural
Eating My Way Through Rio
Any beachside day in Rio should start off with açai. Whether you find this fruit in your smoothie or just eat it straight, it's a fresh treat for a hot Rio day. For dinner, definitely sample traditional Brazilian dishes like churrasco and feijoada. Try these dishes at places like Churrascaria Palace and Casa da Feijoada. Wash it down with a classic caipirinha, or grab a beer with a water view at Bar Urca to finish up your night with a sunset.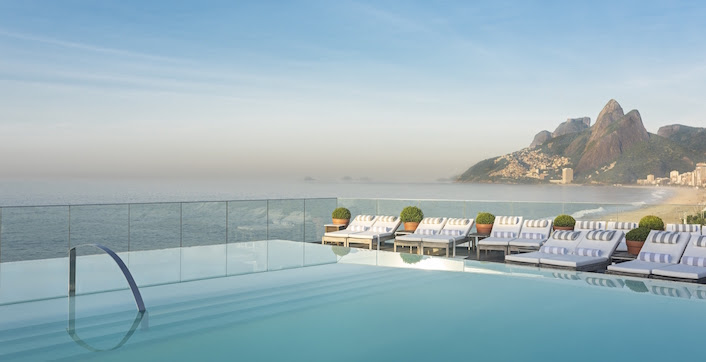 Fasano
Find Me Poolside
Overwhelmingly, our local Discoverers recommend staying in the Leblon or Ipanema neighborhoods. These areas are the closest to some of the best restaurants and beaches in the city. Check out apartments on Airbnb in Leblon, or the chic beach hotel Fasano in Ipanema.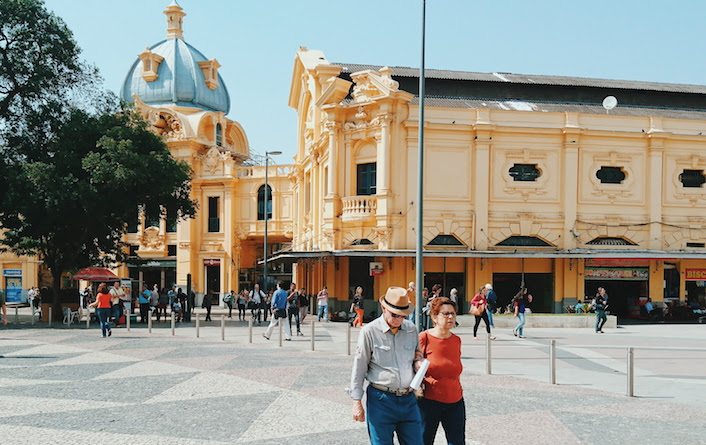 #goodinrio | @hermanolm
Be Aware
Be aware of your surroundings and others when walking on the street. Especially at night. Avoid dark/enclosed areas. Do not walk around wearing flashy jewelry or expensive looking items. -@anjie_yogabliss
Lather Up
Use sunscreen! The city is super hot, especially in the summer! The average temperature is 40º Celsius! - @thainaguedesfotografia
Você fala Português?
Most of the locals don't speak any English or Spanish. So it may be a good idea to master a little bit of Portuguese. - @theraquelsantana
Be Safe
Rio has a reputation of not being safe. It's true as it is in most big cities of the world. But don't let the fear take over you. Feel free to enjoy the city's attractions, as well as coming and going to wherever you want, whenever you want. Just stay aware of your surroundings, keep your belongings close to you, and keep an eye up for pickpockets. - @diego_dandrea