Se fores para a Dinamarca, os habitantes locais não se referirão a Aarhus como a segunda maior cidade do país - eles a chamarão de "cidade nº 2". Essa é uma forma essencialmente dinamarquesa de descrever o que começou como um assentamento viking há mais de 1.000 anos e, mais recentemente, emergiu da sombra de Copenhaga como um centro cultural próprio. Agora que a cidade entrou na luz, ela está pronta para o seu close-up.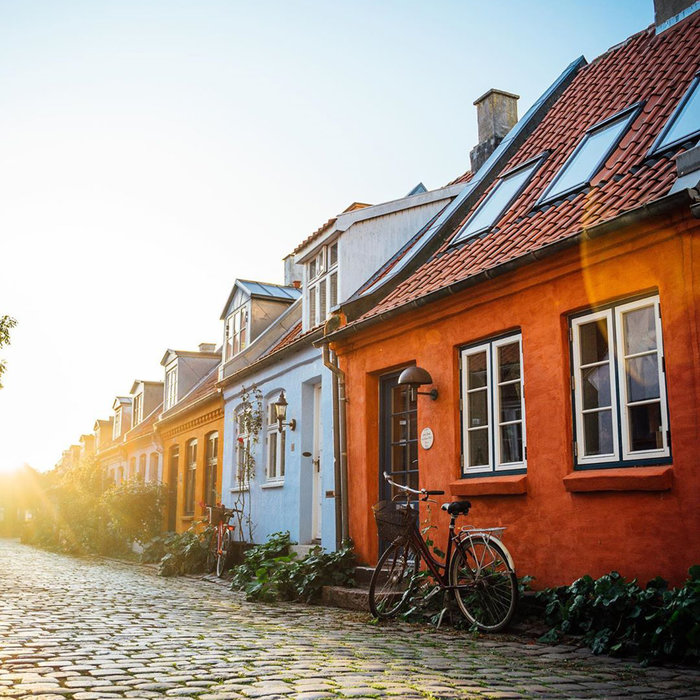 Aarhus, Denmark | @olis.pics
If you go to Denmark, the locals won't refer to Aarhus as the country's second-largest city — they'll call it the "#2 city." That's a quintessentially Danish way of describing what began as a viking settlement more than 1,000 years ago and has more recently emerged from Copenhagen's shadow as a cultural hotspot of its own. Now that the city has stepped into the light, it's ready for its close-up.
Fun Fact:
Aarhus' name comes from its viking settlers and means "river mouth."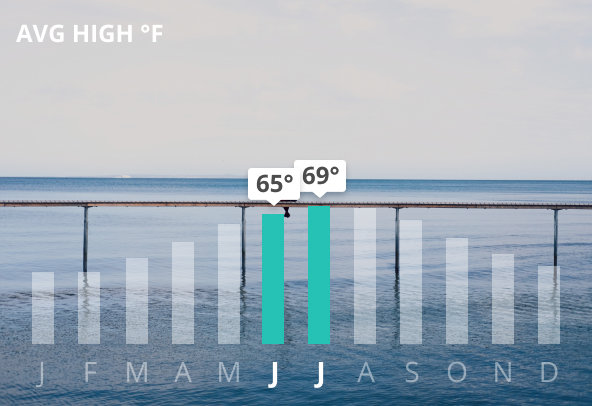 #visitaarhus | @tompeham
June — July
Aarhus' northern latitude lends it long summer days and even longer winter nights, so when to visit depends in part on which experience you prefer. The former will be more enjoyable for most: Summer solstice is quite the experience, making late June and its 17+ hours of sunlight the best time to see what makes Denmark in general, and Aarhus in particular, such a unique corner of the world.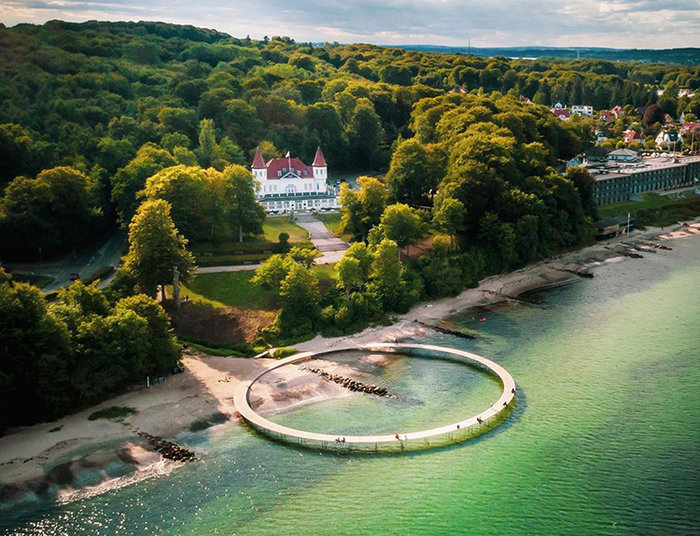 Den Uendelige Bro | @aarhusibilleder
A Bridge to Nowhere (and Everywhere)
For another difficult-to-pronounce marvel, take a stroll down Den Uendelige Bro — AKA the Infinite Bridge. The circular wooden pier can be found at Varna Beach and is as much a work of art as it is a causeway, making it especially conducive to walk-and-talks (or, if you visit solo, perambulates-and-contemplates). See how many revolutions you can complete without very slowly getting dizzy.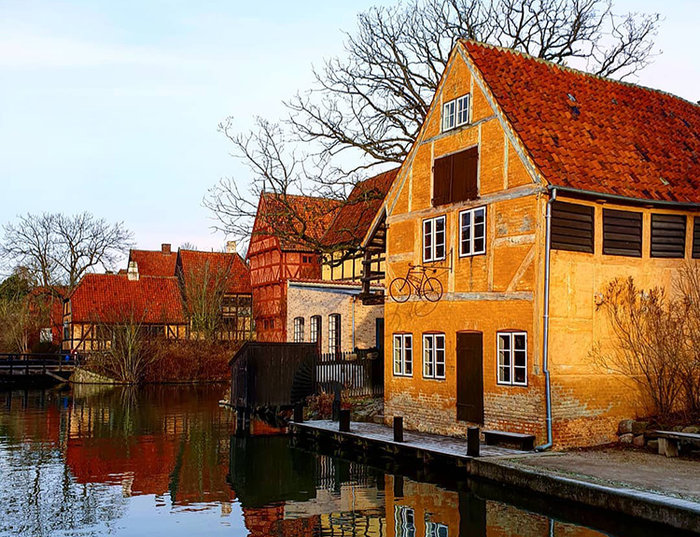 Den Gamle By | @__christinaroy
The Way We Were
Den Gamle By may not be the easiest attraction for Anglophones to pronounce — it means The Old Town, if you'd rather go with that — but it is easy to spend an afternoon in. Founded in 1914 as the first open-air museum dedicated to 19th-century village life, it also features districts that recreate life in the 1920s and '70s. There are bookshops, markets, post offices, and other staples of simple living — all staffed by people in era-appropriate attire. More than just a fun time capsule, it's a poignant reminder that history never really begins or ends.
Marselisborg Deer Park | @martinries
Oh Deer
Nara isn't the only city with a deer park. Aarhus is home to 54 acres of enclosed woodland within the Marselisborg-Moesgaard forest where friendly sika and fallow deer roam freely, and they're docile enough that you can walk right up to them. If you're inclined to feed the majestic residents of Marselisborg Deer Park — and, really, why wouldn't you be? — keep in mind that bread isn't good for them; carrots and apples are preferable. (There are also wild boars here, but they're in a separate enclosure and, well, considerably less friendly.) Anyone hoping to see even more animals need only head to Egå Engsø and gaze upon the cattle as they graze.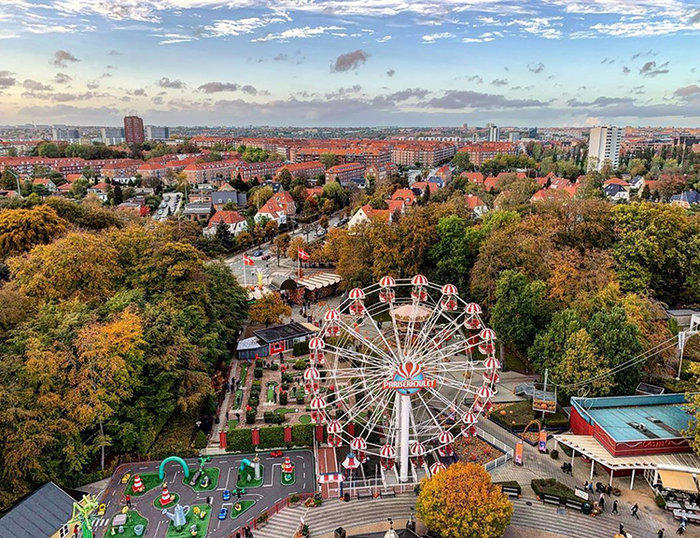 Tivoli Friheden | @mari_sanna
And You're Free, Free Fallin'
Tivoli Gardens, located in Copenhagen, was opened in 1843 — making it the second-oldest amusement park in the world. Tivoli Friheden is comparatively fresh-faced at a mere 107 years old, and it's thrilling and relaxing in equal measure. Attractions include Hjertekig, a 213-foot free-fall tower that just opened last year and is now a key part of Aarhus' skyline, and a rollercoaster that lives up to its intimidating moniker, the Stinging Cobra. If you aren't adrenaline junkie, try out mellower fare like concerts and rides for the kiddos.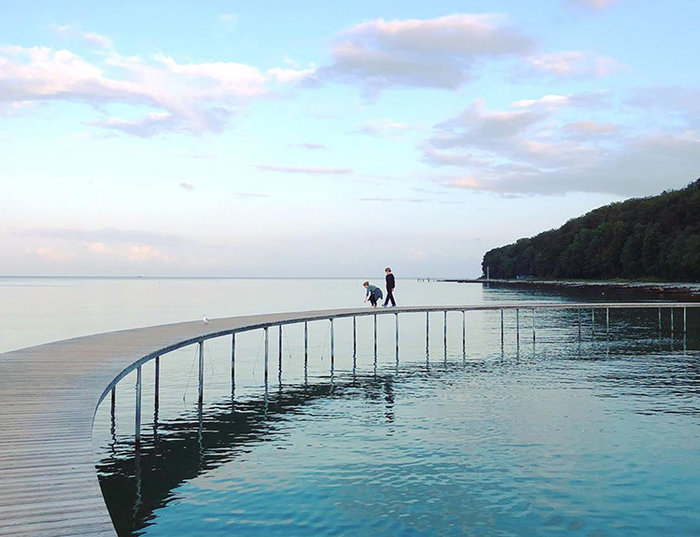 @chasing_hygge
"I took this photo last year while walking on the beautiful Infinite Bridge on Varna Beach in Aarhus. The bridge is entirely made of wood and was originally created as an artwork in 2015. The city loved it so much they decided to keep it and now people can stroll on it, endlessly, every summer."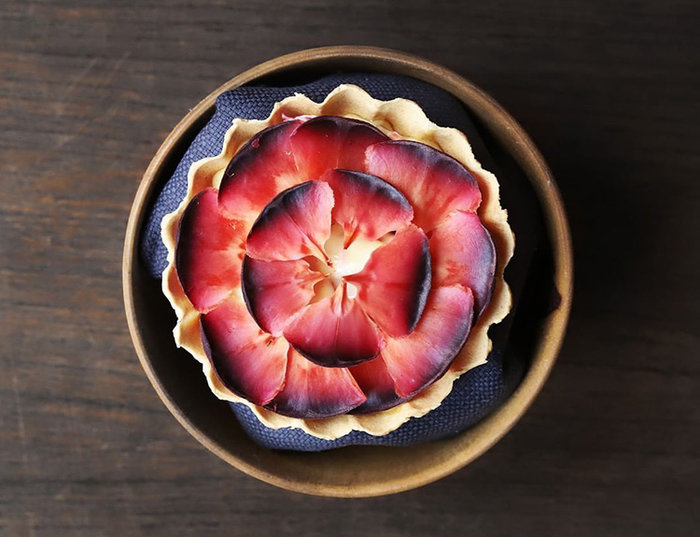 Restaurant Domestic | @restaurant_domestic
Old Town Brod
Denmark isn't internationally known for its food, but it probably should be. Largely of the meat-and-potatoes variety à la its neighbor Germany, the country's best-known cuisine includes frikadeller (flat, pan-fried meatballs), smorrebrod (open-faced sandwiches), and brændende kærlighed (literally "burning love," a mashed-potato dish with bacon and onions). Aarhus has emerged as a culinary capital over the last decade or so, as evidenced by Michelin-starred restaurants like Gastromé; if that's too blue for your blood, however, Klokken is both more economical and an excellent spot to sample the classics. For something sustainable, hyper-local, and altogether unique, try Domestic. They take their philosophical approach as seriously as they take their food, with a commitment to locally sourced ingredients and a killer menu to boot — meals come in either four or eight servings, and all are preceded by eight snacks (think beetroot, cod, and sourdough). Wherever you end up eating, seek out rød grød med fløde for dessert and amuse a Dane by trying to pronounce its name.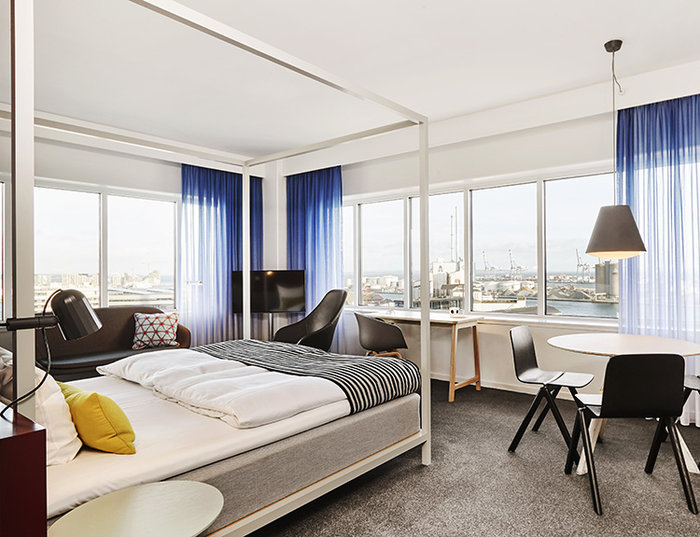 Comwell Aarhus | @comwellhotels
The Scandic Aesthetic
Scandinavian design really is everything it's cracked up to be, and it's on full display at the Scandic Aarhus City. Centrally located near the renowned ARoS Art Museum and Strøget shopping street, it's an ideal home base for your Aarhus adventures — especially for environmentally minded travelers who will appreciate that its solar panels are responsible for 90% of the hotel's power. There's also the Comwell, which offers views of the beach, harbor, and forest — and is easy on the eyes itself. The aesthetic here is equally sleek, and as with the Scandic, form doesn't come at the expense of function.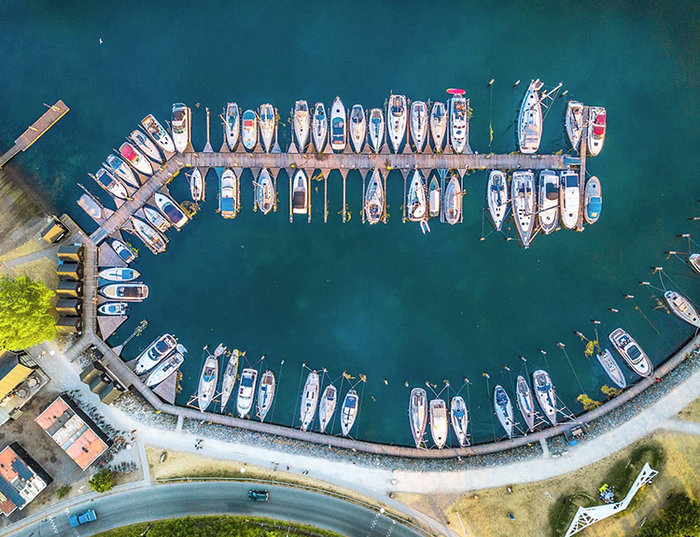 Marselisborg Marina | @pxlars
On the Waterfront
"Aarhus is a wonderful mixture of rich culture, visionary architecture and a beautiful marine cityscape. If you visit Aarhus make sure to take a look at Marselisborg Slot and Marina." – @pxlars
Seriously, See the Deer
"Just outside Aarhus you will find Marselisborg, which is an open animal park with wild deer and boars. It is a beautiful place for a walk around." – @martinries