Glasgow é uma cidade com visão de futuro que não perdeu de vista o seu passado - mas, a sério, e como poderia? A arquitetura vitoriana é omnipresente na cidade mais populosa da Escócia, assim como museus, galerias e outros lembretes de que ela foi considerada por muito tempo a "Segunda Cidade do Império Britânico". O sotaque pode ser complicado para os visitantes no início, mas os Glaswegians (ou Weegies, como às vezes são conhecidos) são um bando de amantes da diversão que irão fazer sentires-te em casa.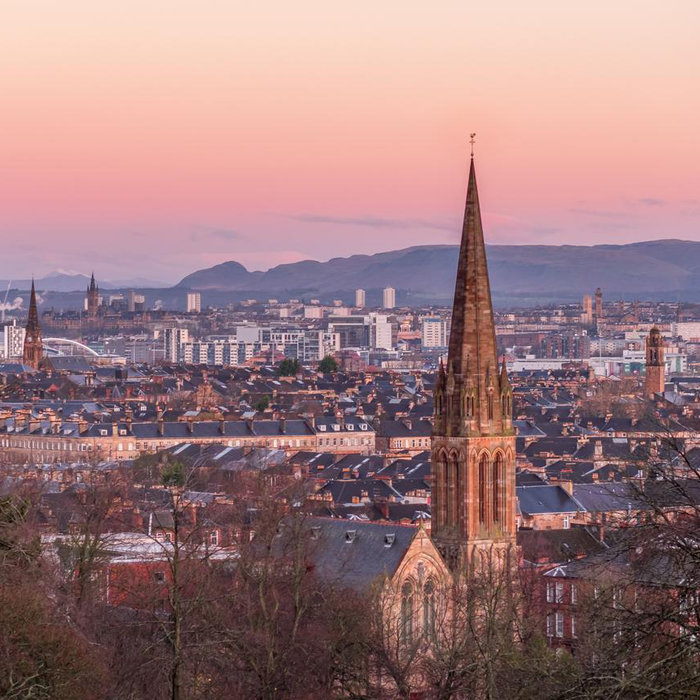 Glasgow, United Kingdom | @iandick_photography
Glasgow is a forward-thinking city that hasn't lost sight of its past — but really, how could it? Victorian architecture is ubiquitous in Scotland's most populous city, as are museums, galleries, and other reminders that it was long considered the "Second City of the British Empire." The accent can be tricky for visitors at first, but Glaswegians (or Weegies, as they're sometimes known) are a fun-loving bunch who will make you feel right at home.
Fun Fact:
Glasgow means "Dear Green Place" in Gaelic.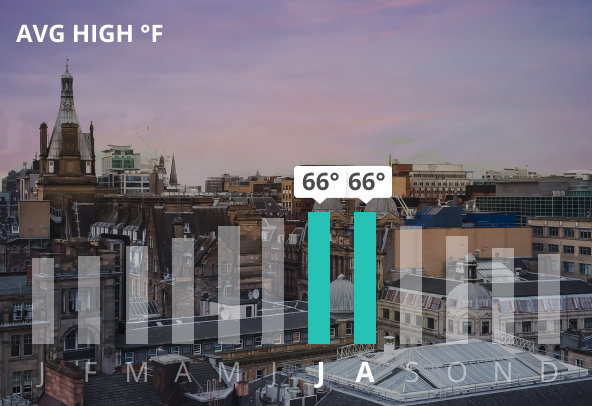 #ig_glasgow | DaLiu
July — August
Glasgow is one of those places where you can experience all four seasons in the span of a single day. It receives an average of 167 rainy days per year, which is actually on the mild side for Scotland. If you want to stay dry, aim for the height of summer and enjoy the outdoor revelry.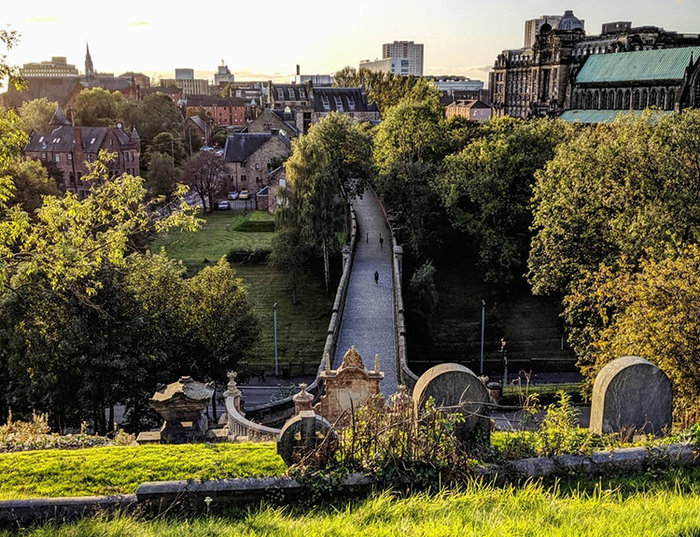 Glasgow Necropolis | @caro_olag
A Regal Resting Place
For something unique, why not take a stroll through a vast cemetery for the Victorian elite? Glasgow Necropolis is that and more, not to mention less somber than you might expect. That's owed largely to the garden cemetery's beauty, as the 37-acre resting place is replete with stunning sculptures, statues, and plants. Situated on a low hill, it's just a stone's throw away from the equally worthwhile Glasgow Cathedral.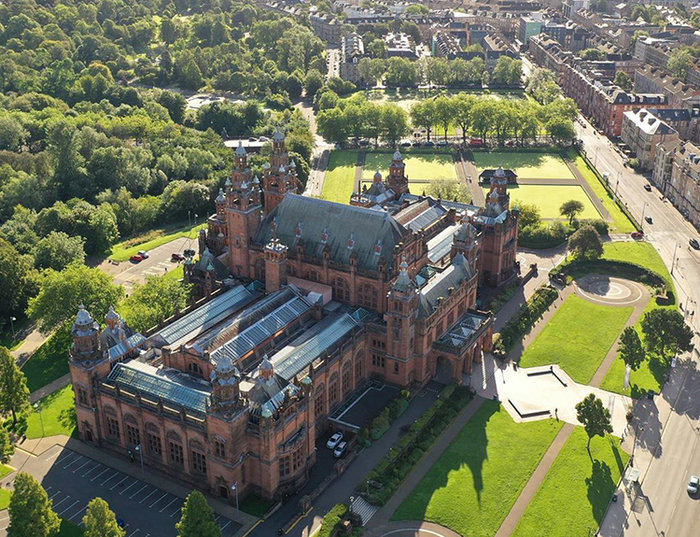 Kelvingrove Art Gallery & Museum | @drone_flyer_scotland
Dalí and Dinosaurs
Home to 22 themed galleries containing everything from Van Gogh paintings to a mummified head, the Kelvingrove Art Gallery and Museum has been part of Glasgow's cultural fabric since 1901. You needn't be an aesthete to appreciate the eclectic works on display here, an inventory of more than 8,000 individual objects that tends to start with its most famous: Salvador Dalí's 1951 "Christ of Saint John of the Cross." Be sure to also visit the West Court, where a Spitfire plane from the '40s hangs above taxidermied elephants, ostriches, and giraffes.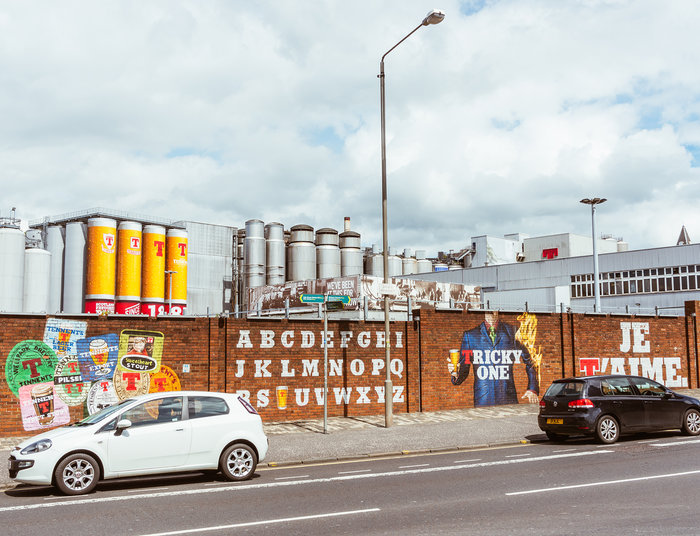 Tennent's Visitor Centre | @tennents_visitor_centre
Single Malt
You can't visit Scotland without trying genuine Scotch Whisky, and no one does it quite like Glengoyne Distillery. In continuous operation since 1833, it specializes in the Highland single-malt varietal made in the country's slowest stills. Tours of the surprisingly beautiful facility, which sits amid rolling hills just half an hour outside Glasgow proper, are offered on the regular with several options: The standard version runs for 45 minutes, the whisky-and-chocolate experience is twice as long, and the masterclass will delight diehards for a full five hours. (If you never acquired a taste for whisky but still want to sample some local flavors, hop over to Tennent's Wellpark Brewery.)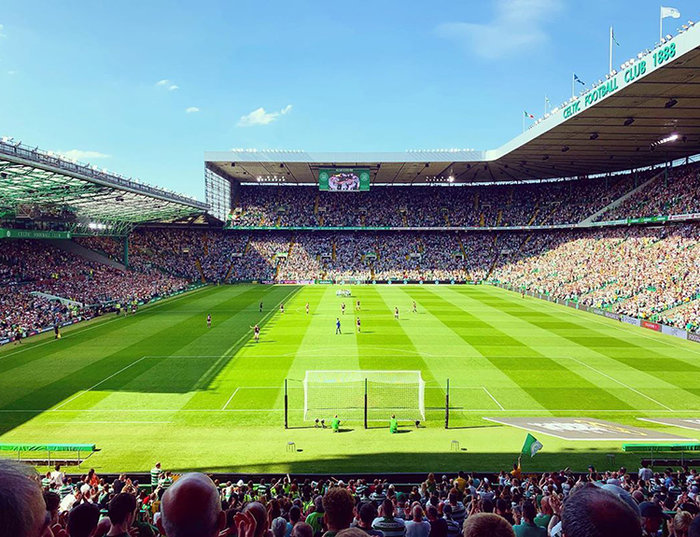 Celtic Park | @anthonyjoseph91
Tour de stade
The Celtic Football Club, known simply as Celtic, is one of the most successful in Scottish history. (The other is their fierce rival, Rangers.) They're a national institution, ditto their stadium: Celtic Park, affectionately called Parkhead and Paradise by fans. Whether you're a footy fanatic or a first-timer, the atmosphere at the 128-year-old stadium is electric. Follow the action with a drink, join in on the chants alongside 60,000 other fans, and cheer on the team as they seek to win their seventh consecutive title in the Scottish Premiership. Not a soccer fan but still want to see what it's like? Take a tour of the grounds.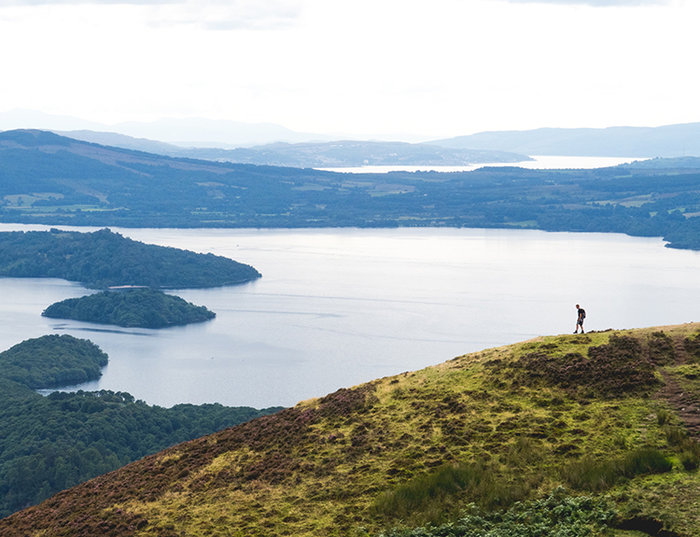 @sanderlenaerts
"You can find the start of the track to the top Conic Hill in Balmaha. You can get there by bus or car (45 minutes). However the car park at the start of the track in summer is rather crowded, so you might have to park elsewhere. With good stamina you can do the hike in 1 hour and 30 minutes easily. In August you have lots of midges at the top, so wear repellent."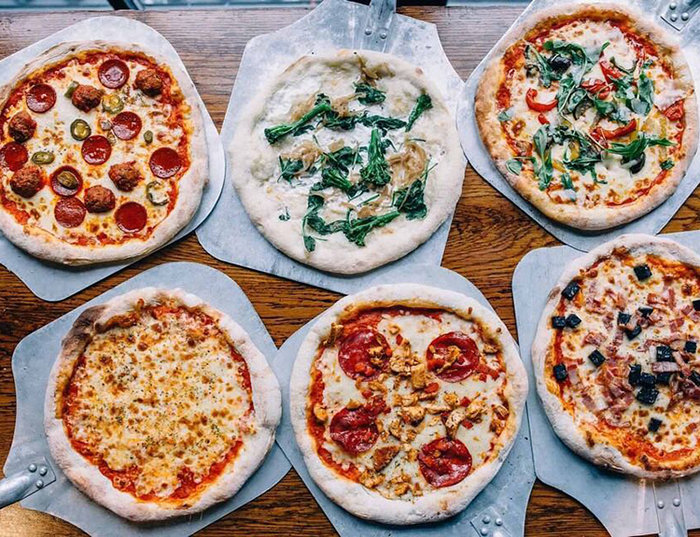 Grosvenor Cafe | @grosvenorcafegla
Baa, Baa, Black Sheep
If you're wondering whether being in Scotland means you have to eat haggis (a savory pudding made of sheep innards, for the uninitiated), the answer is no. But if you want to be adventurous and try it and other exemplars of Scottish cuisine, Black Sheep Bistro is the place to do it. Also on the menu: baked camembert, steak pie, bacon-wrapped chicken stuffed with black pudding, and other bold flavors worth venturing beyond your comfort zone for. In the mood for comfort food instead? Try the Grosvenor Café, part of a converted movie theater that now specializes in burgers, sandwiches, and pizza.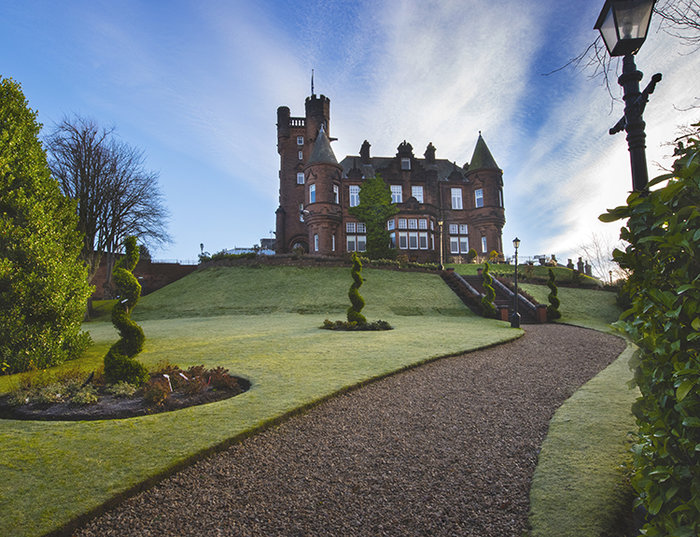 Sherbrooke Castle Hotel | @sherbrookecastlehotel
We Have Always Lived in the Castle
Ever stayed in a castle? You can at Sherbrooke Castle Hotel, a four-star accommodation dating back to 1896. Made of red sandstone and featuring distinctive architectural elements befitting its baronial origins — like the fact that all 18 rooms surround a central hall and staircase — it was used by the Royal Navy during World War II. Enjoy the peacetime vibes and live like royalty for a weekend. Another historic hotel, the Native is housed in an Edwardian building that's classical on the outside and cozy on the inside. It's also centrally located, making several essential spots (George Square, Buchanan Street) easily walkable.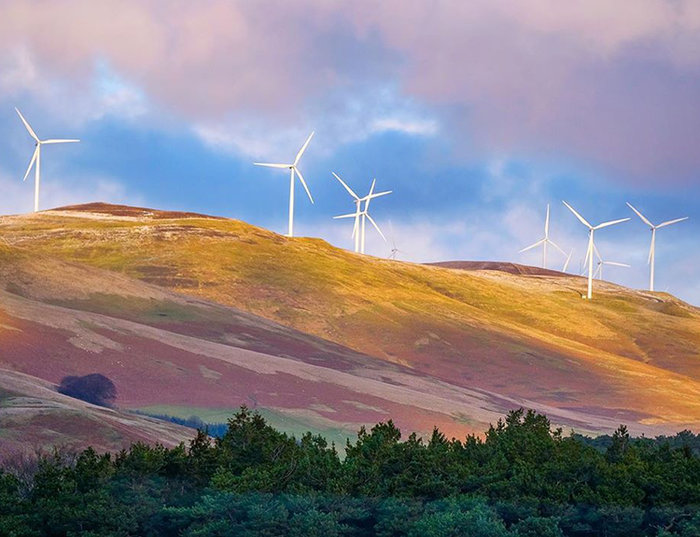 Whitelee Windfarm | @justdeden
Explore, Explore, Explore
"Glasgow is full of amazing places, it's just a case of venturing out and seeing what hidden delights you can find." – @drone_flyer_scotland
Camera-Ready
"Always have your camera with you because every single corner in Glasgow is beautiful." – @justdeden
Vital Organist
"There are so many great places to see and explore in Glasgow, but one of my favorite discoveries was the Kelvingrove Art Gallery and Museum organ recital. Listening to pop songs being played on an organ by an organist have the time of his life, all while standing in a gorgeous old building, was a really unique experience!" – @otashi_