Começo este Especial Viagens com chave de ouro. É difícil vencer um lugar cujo lema é "One Happy Island". Aruba mais do que cumpre esse slogan, misturando a paisagem do deserto e as praias calmantes em união perfeita. A ilha fala por si - areia branca, água azul-turquesa e cidades charmosas. Há muito o que amar. E embora seja um destino popular, ainda há algumas descobertas que aguardam novos visitantes.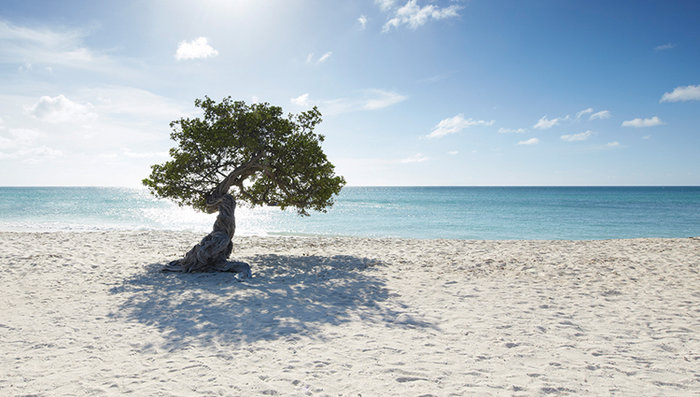 Aruba | Aruba Tourism Authority
It's hard to beat a place whose motto is "One Happy Island." Aruba more than lives up to that tagline, blending desert landscape and soothing beaches in a seamless marriage. The island speaks for itself — white sand, turquoise water, and charming towns. There's a lot to love. And while it's a popular destination, it still has some discoveries awaiting new visitors.
Fun Fact:
Aruba might be tiny, but it's incredibly diverse. Over 90 nationalities are represented among its residents, from South American to European and beyond.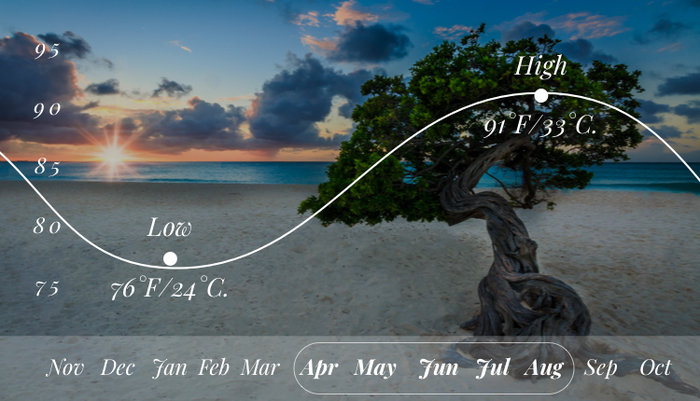 @crbiondi08bo
April — August
With an average 82° Fahrenheit temperature year-round, Aruba is one of the few places in the world that has truly perfect weather. Sitting outside the Caribbean's Hurricane Belt, the island might see a little rain but is almost never in danger of huge storms. There's really no wrong time to visit weather-wise, so let prices guide you. Most people escape the cold at home, traveling from November to February. For better prices and smaller crowds, book any time from April through August. Be sure to check cruise ship schedules as well, as the capital, Oranjestad, can get overcrowded when a ship is docked.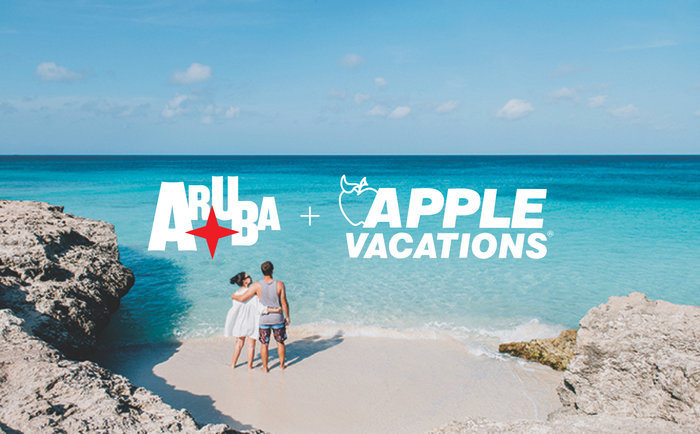 Ready For Paradise?
Between the sand and the surf, the cute towns and rugged cliffs, there's enough on this tiny island to make sure your smile stays on as long as your tan. Add in a ridiculous amount of sunshine and you've got the perfect oasis of happiness.

Ready for white sand and sunshine now? We don't blame you. That's why our friends at Apple Vacations are hooking you up with what you need to get there. Book an all-inclusive Apple Vacation to Aruba and you get round-trip airfare, hotel accommodations and in-resort round-trip airport transfers. Plus you'll have access to your own Apple Vacations representative who will take care of all your needs.

Use code

HAPPY319

at checkout to save up to $200 per couple. Then grab your sandals and some sunscreen, and get ready to visit One Happy Island.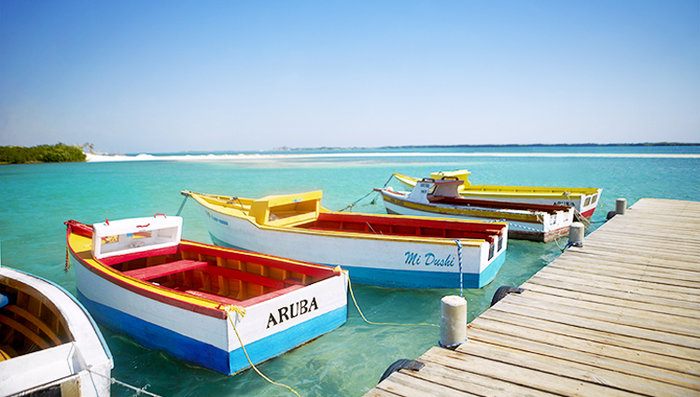 Barcadera, Aruba | Aruba Tourism Authority
Blue Crush
Turquoise water and soft sand means perfect conditions for some under- and over-water exploration. In Aruba, the most worthwhile activities take place on the water and you can try your hand at everything from paddleboard yoga to windsurfing off its shores. When you're ready to be submerged, strap on your snorkel gear and discover shipwrecks, reefs and colorful sea life among the tranquil waters. A few beaches, including Malmok Beach and Mangel Halto, offer walk-in access to underwater reefs. You can also join a group or charter your own private tour to access awesome dive spots around the island.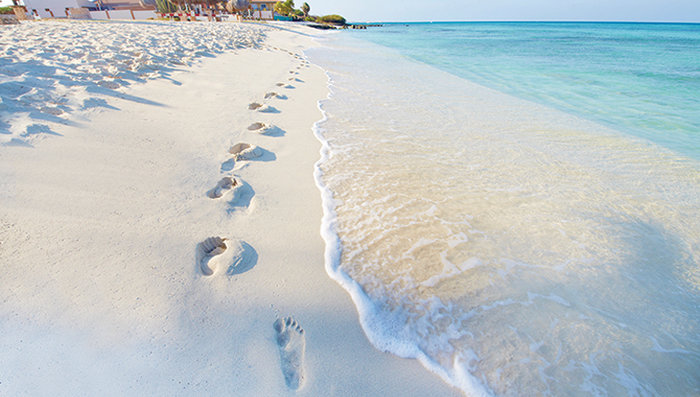 #onehappyisland | Aruba Tourism Authority
The Writing in the Sand
Not sure where to start with Aruba's beaches? We don't blame you. The island's collection of sandy shores is enough to paralyze any beachgoer with indecision. There are the more popular areas, like Eagle Beach, which features the iconic divi divi trees, Palm Beach and Baby Beach. Flamingo Beach is another popular spot, located on the private island owned by the Renaissance Hotel just off the shore. Only guests and lucky visitors with day passes can visit, but if you haven't chosen your accommodation yet, it's worth planning a night here. But don't feel limited to the popular beaches. Aruba is easy to navigate, and renting a bike or a car to explore will yield other, lesser-known beaches, like Arashi Beach and Boca Catalina.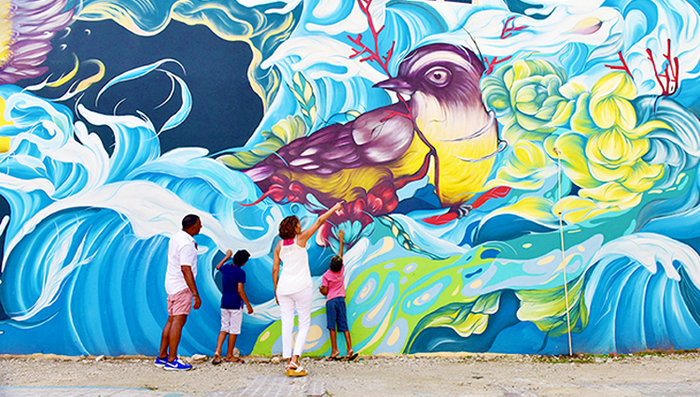 Sint Nicolaas, Aruba | Aruba Tourism Authority
Fun For All and All For Fun
Aruba's urban centers are as charming as the rest of the island. Capital city Oranjestad is like Disneyland, full of colorful buildings, high-end shopping and cheerful faces. Tour the Historical Museum or enjoy the nightlife of the bustling town. The streets can get a little overwhelmed when cruise ships dock, so a visit to San Nicolas is also worth your time. Explore the street art in this smaller town far from the high-rise hotels. Enjoy music at local bars or wander the beaches for a peaceful sunset.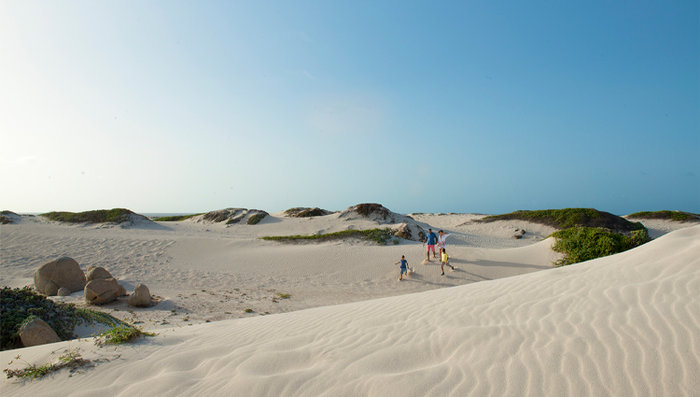 Arikok National Park | Aruba Tourism Authority
Another Planet
You can find sunny beaches throughout the Caribbean but what makes Aruba stand out is its north island terrain. Here you'll find an entirely different world — a barren desert landscape pressing against a tumultuous sea. Explore Arikok National Park, which stretches across this part of the island. Wander among cacti and navigate rocky cliffs scattered with brush. Once you reach the water, find your way to the Conchi Natural Pool, a peaceful swimming hole in the otherwise rough water of the northern side of the island. You can also explore caves and hills with incredible photo ops.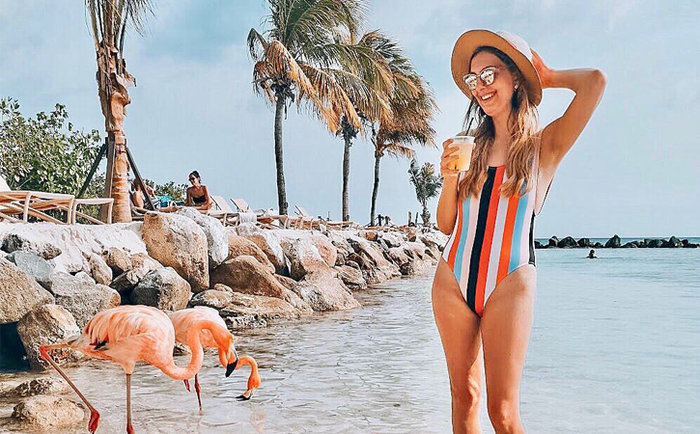 @thedutchblondie
"If you love beaches, Aruba is the place to be! Although I love exploring big cities, I also enjoy a relaxing vacation every now and then. And trust me when I say that Aruba is definitely an island where you can totally relax! I would highly recommend a day pass to Flamingo beach or a short stay in the Renaissance hotel, so you can visit this private beach for free. Walking between the flamingos on this beach is such an amazing experience. Plus, it's an awesome place to take the most Insta-worthy pictures ever!"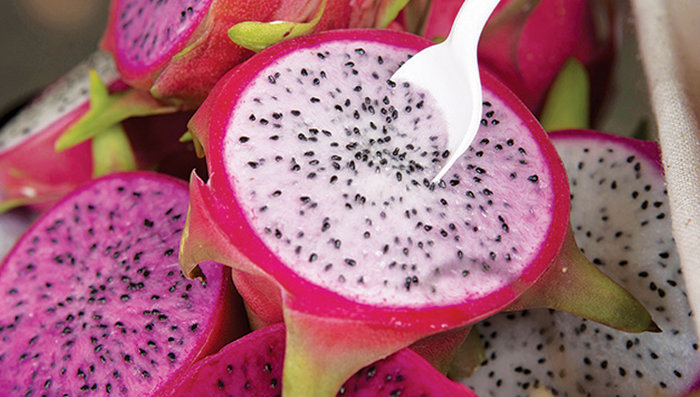 Eduardo's Beach Shack | Aruba Tourism Authority
Get it Fresh
While many visitors to Aruba stay in the all-inclusive resorts, don't let the hotel options draw you away from the local restaurants. Oranjestad and Palm Beach are rife with food options, but stay away from the touristy spots and discover some local gems. Zeerovers has some of the best, freshest fish on the island which you can enjoy with an ocean view. Head to Madame Janette's for live music and outdoor charm. To try the island's most famous dish, Keshi Yena (a cheese and meat casserole), visit Papiamento, a family-run spot with creative takes on island fare.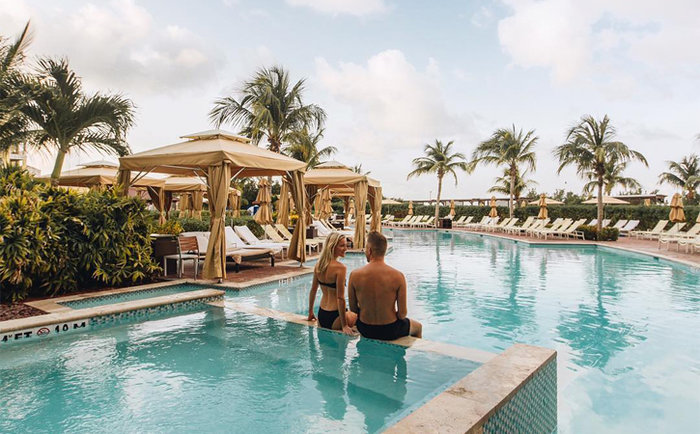 The Ritz-Carlton, Aruba | @leaguetravels
Don't Worry 'Bout a Thing
Aruba has long drawn in visitors, so its hotel scene is fruitful. There are many all-inclusive resorts, like the adults-only Bucuti and Tara Beach Resort, but they're not the only option. Try the sunny and colorful Boardwalk Hotel, a small boutique complete with a garden setting and cute bungalows. For those interested in visiting Flamingo Beach, book at the Renaissance Aruba and enjoy the private island.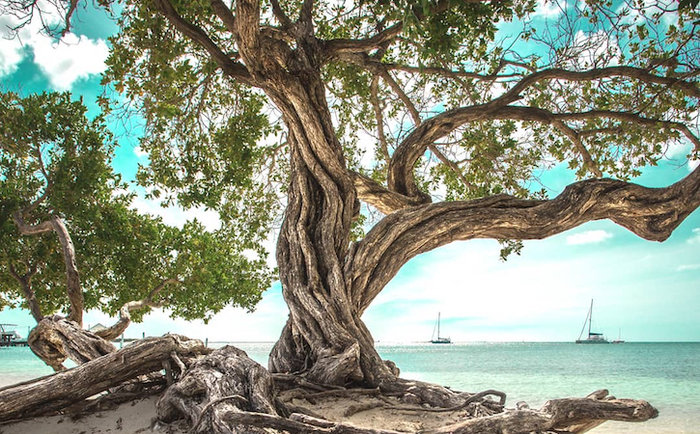 #arubaonehappyisland | @bombrush1
Cruise Around
"The tip worth a million is — rent a car! As the island is relatively small, but with several points to visit, the car offers a lot of convenience and helps to have a very flexible schedule." – @jadson_rios
Pick Your Adventure
"Aruba is definitely what you make it. It can be an incredibly relaxing vacation by the beach or a place to continuously explore and adventure around. We're the more adventurous type had the time of our life!" – @reaganaleea
One Happy Island
"When you go to the beach people go out swimming after they put their phones in their bags on the beach and in the night people went alone along the road between Oranjestad and the hotel areas outside the town, in the dark without fear. It felt like a very safe place." – @fotaharka