Salonica,
também conhecida como Tessalónica
é a segunda maior
cidade
da
Grécia
e a principal cidade da região grega da Macedónia
. Deixar as ilhas gregas para uma cidade portuária distante pode parecer um erro, mas Thessaloniki vai mudar-te essa ideia. Esta cidade ao longo da costa nordeste do país tem tudo o que podes esperar da Grécia - camadas de ruínas antigas, comida saborosa, vista para o mar e uma vida noturna vibrante.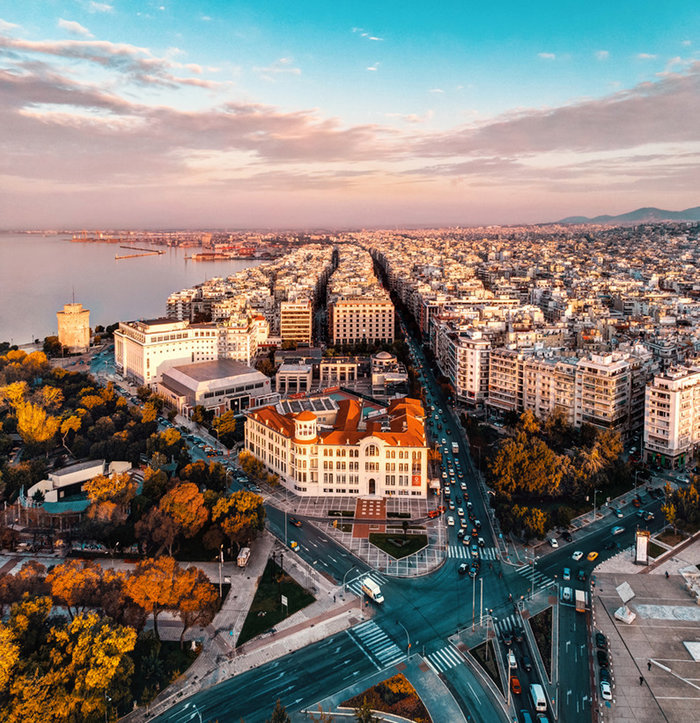 Thessaloniki | @johnpoulos23gr
Leaving the Greek islands for a distant port city may seem like a foolish mistake. But Thessaloniki will change your mind. This city along the country's northeastern coast has everything you've come to expect from Greece — layers of ancient ruins, tasty food, sea views and a vibrant nightlife. Modern and alive, Greece's second city will open up a whole new world of Greek travel.
Fun Fact:
Thessaloniki wears the influences of its former civilizations in its architecture and you'll find remnants of the Roman, the Byzantine and the Ottoman Empires throughout the city.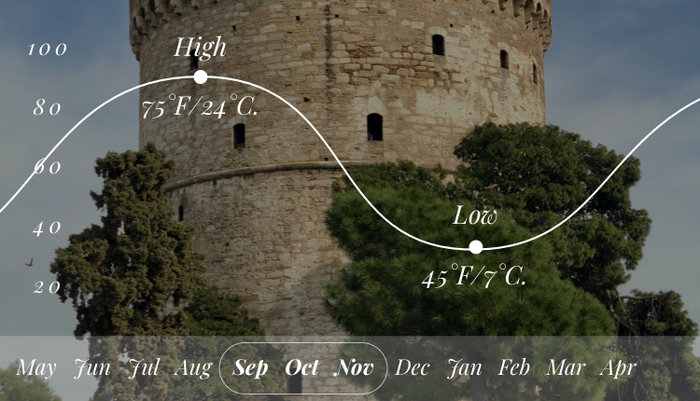 @iman__bay
September — November
Greece's summer is its most popular tourist season, and not only will you battle crowds but you'll melt in the soaring temperatures. Fall is beautiful in Thessaloniki, with cooler temperatures, though note that the International Thessaloniki Film Festival in November will bring the crowds back for a spell.

Rotunda, Thessaloniki, Greece | @johnpoulos23gr
Journey to the Past
Peel back the layers of Thessaloniki's past cultures by taking a walking tour of its many architectural ruins. Climb the iconic, seaside White Tower for a view of the harbor before heading to the Arch of Galerius and Rotunda for a taste of Roman relics. Explore Turkish hammams and Orthodox churches. Stroll the Byzantine walls to the Trigoniou Tower and try to keep all the different historical eras straight.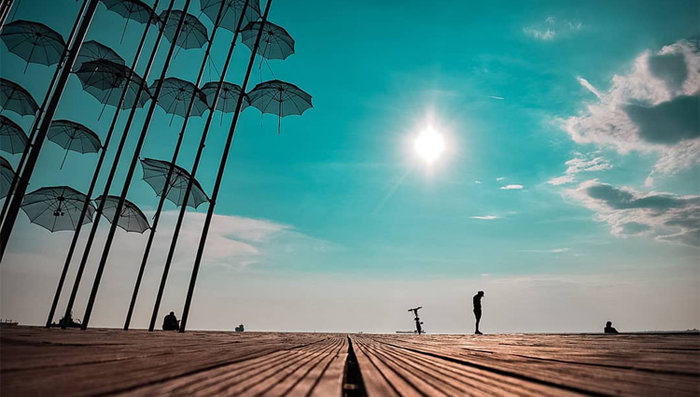 #salonica | @giorgosgiol
Bay Watch
Thessaloniki is home to one of Europe's largest ports, and its waterfront delights could keep you entertained all day. Start at Aristotelous Square, a center of activity lined with shops and restaurants. If you're visiting during any kind of holiday or event, odds are the action is happening here. The square opens up to the Thermaikos Gulf and you can begin strolling along the 3.5-kilometer walkway that runs to the White Tower. View art installations and statues along the way, and if you haven't had enough, hop on a boat and go sailing.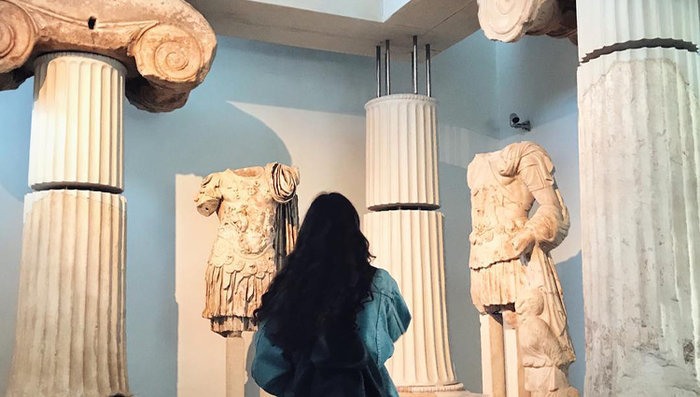 Archaeological Museum of Thessaloniki | @missmispronounced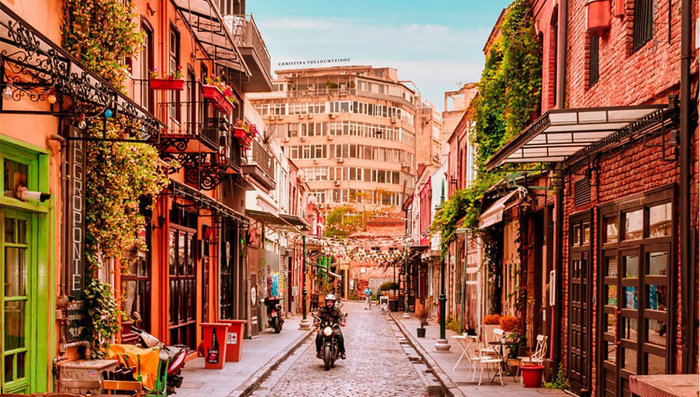 Ladadika District | @christinatouloumtzidou
Shine Bright
Thessaloniki's youthful and positive energy has persisted even throughout Greece's recent economic turmoil and you'll find it in many of the city's quirkier stops. From snapping photos in a train cemetery to dancing the night away in a bathhouse turned club, Thessaloniki knows how to show you a good time. Spend ample time in the Ladadika District, a colorful and lively area full of restaurants, bars and shops. During the day, go shopping in the local markets, sampling fresh feta at the glass-roofed Modiano and the traditional Kapani food markets.
@victorene
"Thessaloniki is the second largest city in Greece and a great place to see all year round. It's a great place for street photography and nightlife! The Greeks have a saying: 'Never spend time with people that have been to Thessaloniki and did not like it! They are not ok!"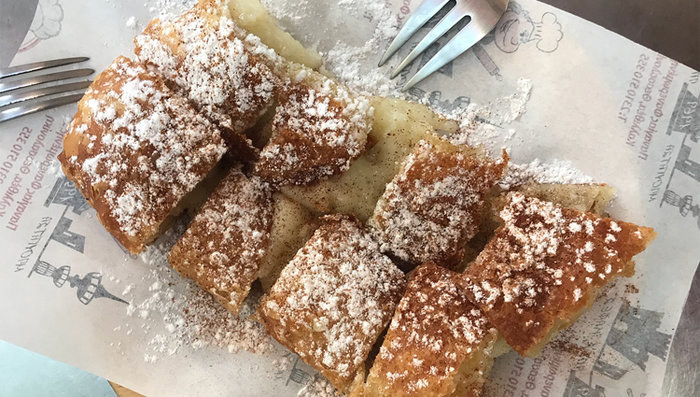 Bougatsa Bantis | @mokuska
Greek Feast
The street food in Thessaloniki is the stuff of dreams, and there are several you can't miss. Try bougatsa, a flaky pie filled with sweet cream, or koulouri, large bread rings sprinkled with seeds that you can find on almost every street corner. When you're ready for a sit-down meal, find your way to Kitchen Bar, a chic harborside spot with delicious craft cocktails. You can also go more rustic with the hearty cooking at Nea Folia, a fantastic restaurant tucked away in the backstreets. For some seafood in your diet, try Marea Sea Spirit for delicious and fresh grub.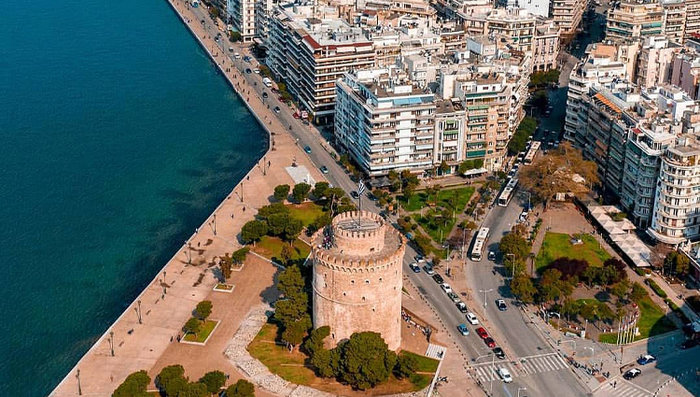 #thessalonikimoments | @perfect_greece
Night Life
"For drinking and going out explore the Ladadika district. It is full of great energy. The main street is Tsimitski and there are a lot of stores if you want to shop, but it's also great to feel the pulse of the city. From Tsimitski there are a lot of little streets full of coffee houses and restaurants and beautiful buildings. And many of them lead to the sea." – @jeckadjordjevic
Raise a Glass
"Thessaloniki is not only the less-known major city in northern Greece but it is the entry point to Naoussa and the region's inky, black voluptuous wines. An hour outside of the urban center of the port town of Thessaloniki is the quiet agricultural area that was named Greece's first classified appellation. Winemakers in this area use traditional and many times organic and biodynamic farming techniques and it is not uncommon to have to step aside and let the herds of sheep pass through." – @barbarabarrielletravels