O Pai Natal pode não morar na Noruega, mas provavelmente ele gostaria de morar. É uma terra de renas selvagens, cobertores de neve e magia que escorre por todas as cachoeiras e campos de flores silvestres. Um dos cantos mais cativantes deste país pode ser encontrado na base de um fiorde mundialmente famoso: Geiranger compensa a falta de uma cena metropolitana com uma paisagem dramática de guloseimas naturais. Terra de contos de fadas e fábulas, Geiranger é certamente mágica, mas também é uma aventura muito real na natureza.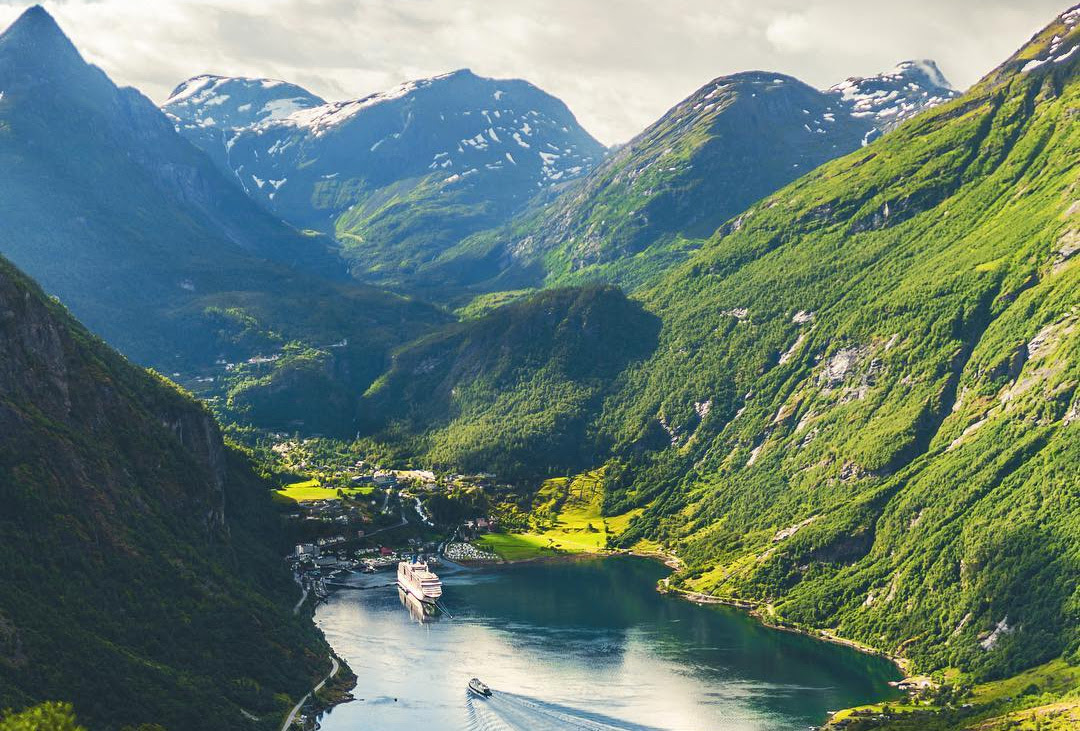 Geiranger | @seffis
Santa Claus may not live in Norway, but he probably wishes he did. It's a land of wild reindeer, blankets of snow, and magic that trickles down every waterfall and wildflower field. One of

the

most captivating corners in this country can be found nestled at

the

base of a world-famous fjord. Geiranger makes up for its lack of a metropolitan scene with a dramatic landscape of natural goodies.

The

land of fairy tales and fables, Geiranger is certainly magical, but it's also a very real adventure into

the

wild.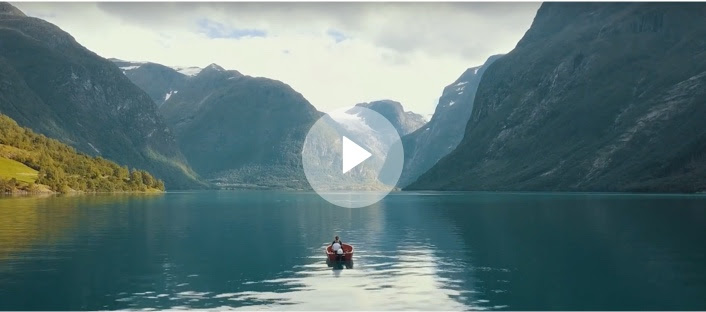 Check out

the

first episode in our Discovery Film Series exploring Geiranger with Discoverers Florian and Lena!
Geiranger, Norway
N 62.10° / E 7.21°

What's in a Name?
Fjord: noun. a long, deep inlet of

the

sea tucked between high cliffs and typically formed by submergence of a glaciated valley.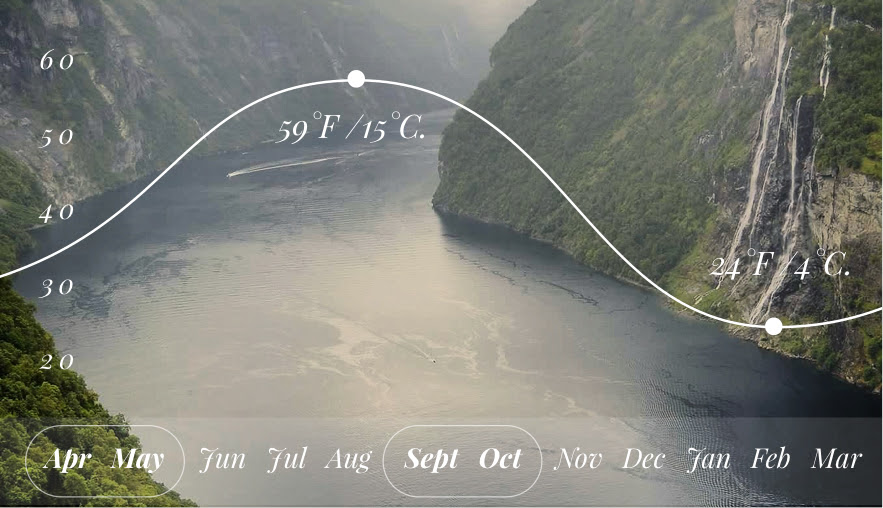 @emilstrandsupermann
April-May & September-October
If you're dreaming of a white Christmas, Norway is your place. Geiranger receives a lot of snow in

the

winter, which transforms

the

landscape into an icy wonderland. But this weather is not always ideal for travel, and many of

the

best hikes and views will be closed off. Summer is beautiful but can be incredibly crowded as cruise ships find their way to

the

fjord. We recommend late spring and early autumn to catch

the

weather turning and fewer tourists.
#geirangerfjord | @ringnes_photo
Dashing Through

The

Fjord
Yes,

the

preferred method of travel during

the

holiday season is a sleigh, but trust us, a kayak is a good alternative. Get up close and personal with

the

natural beauty by gliding across

the

icy glacier water to tour

the

fjord. Pass through

the

mist of

the

Seven Sisters and Lonely Suitor waterfalls, and discover

the

fables and myths of this magical region.
Trollstigen | @janoliverkoch
Did Someone Say Road Trip?
Hold onto your lunch, Trollstigen road is not for

the

faint of heart. This serpentine road winds up

the

mountain through hairpin turns and impossibly steep climbs. This nail-biting "Troll Path" redeems its precarious journey, however, with incredible vistas.
@mcktrts
Cameras out!
If you want to access

the

best viewpoint in Geiranger, be prepared for a bit of a hike. Flydalsjuvet is an incredible photo opp, but it will take you off trail a ways through some slippery terrain.

The

view at

the

end is definitely worth it.
Skageflå, Geirangerfjorden | @kaylapotterbaum
A Pretty Decent Backyard View
It's one thing to navigate

the

winding roads and steep terrain of Geirangerfjord as a tourist, but can you imagine living here? Puts your commute in perspective. To truly place yourself in

the

locals' shoes, visit one of

the

mountain farms sprinkled throughout

the

region. Many have been abandoned, like

the

popular Skageflå, but they still offer great views and challenging hikes. Our

Discoverer

Beate also recommends driving to Herdalssetra, a working farm where you can taste fresh goat cheese and interact with all kinds of farm animals.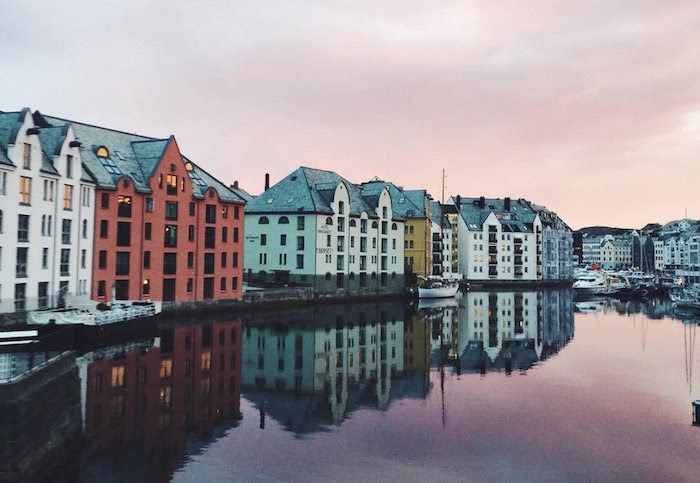 Ålesund, Norway | @malinmoltu
Bright Lights, Tiny City
Geiranger is a small, quiet mountain town, so if you're looking for

the

pulsing beat of a big city, keep looking. While visiting Geiranger, however, you can take a trip to

the

small, nearby city of Alesund to see a few more faces. Tour

the

art nouveau architecture and stop into one of

the

delicious restaurants. With its own stunning viewpoints and adventures, this city should definitely make it onto your itinerary.
Iza's Discovery
@podrozowemojelove
"Geiranger is one of

the

most beautiful places I've ever seen in my life. Incredible nature and breathtaking views create unforgettable and scenic landscapes. I still remember my first breath here when I woke up and heard

the

sound of waterfalls while looking at

the

shaggy, wooden houses covered with grass and mountains often shrouded in mist. Here you want to breathe, smell

the

grass and soak up every moment. Here I felt like I was in a fairy tale."
@geirangersjokolade
Food with a View
Geiranger is a small town, so restaurant options are a little limited. But

the

food is almost entirely locally sourced, so you will find fresh ingredients in every meal.

The

overwhelming favorite in Geiranger is Brasserie Posten, which serves fresh dishes with local ingredients. Be sure to stop by Sjokolade afterward for a delicious chocolate treat.
#allemannsretten | @catharinasorum
Allemannsretten
Norway embraces a policy called "Allemannsretten" or "right to roam" which is basically

the

greatest thing a backpacker can hear. Allemannsretten allows you to put up a tent or sleep under

the

stars almost anywhere in

the

countryside (within certain parameters). No camping permits or expensive campground fees required! You have to follow

the

rules and be respectful of nature, but most of Geiranger's surrounding wilderness is open for you and your sleeping bag.
Geirangerfjord | @joeleep
Pack it Up
Sunny days are rare in Geiranger. Whether it's rain or snow, you'll need to prepare for

the

elements. We've found a couple things to add to your packing list to stay warm and dry on your Norwegian adventure.
First, start with a warm base layer to keep your body heat in. SmartWool makes great base layers from soft merino wool to keep you cozy in

the

frigid fjord air.
Next, throw on a sturdy and reliable rain jacket, like this one from Arc'teryx, to protect you from

the

elements.
| | |
| --- | --- |
| | Finally, don't forget to protect your camera when you're out exploring. This camera bag from Matador makes it easy to get to those breathtaking viewpoints. |