Baltimore é a cidade maior, mas a capital de Maryland está entre os destinos mais encantadores - e históricos - do país. A Guerra Revolucionária chegou oficialmente ao fim aqui, a Academia Naval é sinônimo de cidade desde 1845 e 40.000 residentes em tempo integral desfrutam das vantagens de viver em um dos segredos mais bem guardados da América. Agora é sua chance de ser tão conhecido quanto eles.

USA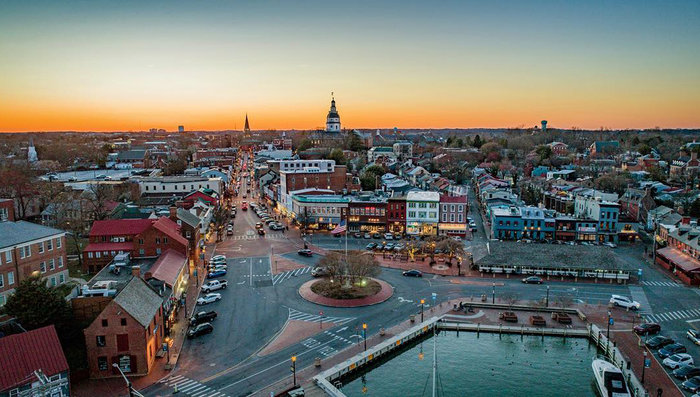 Downtown Annapolis | @blakehwood
Baltimore's the bigger city, but Maryland's capital ranks among the most charming — and historic — destinations in the country. The Revolutionary War officially came to an end here, the Naval Academy has been synonymous with the city since 1845 and 40,000 full-time residents enjoy the perks of living in one of America's best-kept secrets. Now's your chance to be as in-the-know as they are.
Fun Fact:
Annapolis was the temporary capital of the United States from 1783 to 1784.

#whereinannapolis | ChrisBoswell
April or May
If you're visiting the self-proclaimed Sailing Capital of America, you'd be remiss not to do so when the Chesapeake Bay's waters are filled with boats. Temperatures tend to max out at a comfortable 77 degrees in the late spring, and the sea breeze is a balm for anyone with an affinity for the faint scent of waves crashing ashore. For the landlubbers, cherry blossoms bring the parks of Annapolis to life so you can have a lovely time without ever getting your feet wet.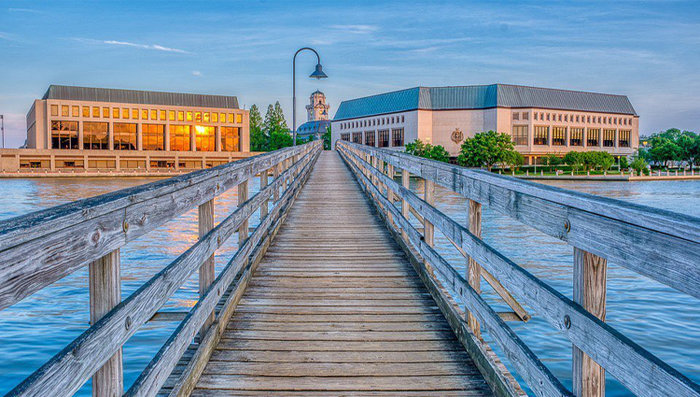 #navalacademy | @bobpetersonphoto
Forged by the Sea
Few American institutions are as old and illustrious as the Naval Academy, which celebrates its 175th anniversary next year. Its campus — known as "the Yard" — is open to visitors year-round, with guided tours offered daily. It's the rare destination that shows as much about the past as it does about the future, with students carrying on one of the country's longest traditions while also looking ahead. If you go during Induction Day or Commissioning Week, you'll even be treated to a Blue Angels flyover.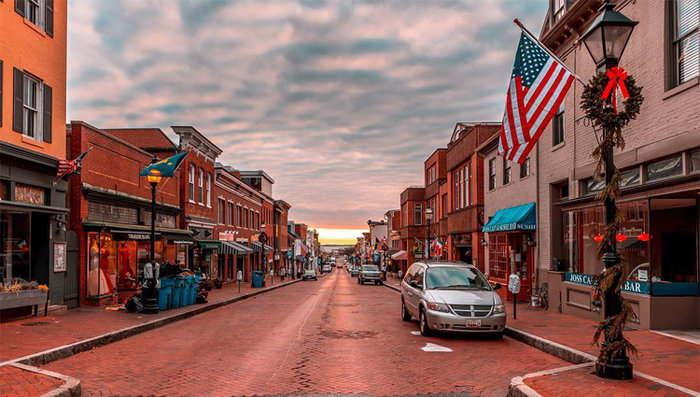 Main Street Annapolis | @jarvinphotography
Amish Paradise
Known to locals as the Amish Market, the Pennsylvania Dutch Farmer's Market sells everything from ice cream and produce to cheese and furniture — almost all of it from Lancaster, PA, better known as the heart of Pennsylvania Dutch country. In addition to the bulk foods, barbecue, candy and meats on offer, it's also home to the Dutch Market Restaurant. It's a great spot to get a home-cooked meal outside your own home, and a taste of a rarefied culture that few outsiders are lucky enough to sample. Maryland Avenuefeatures plenty of more conventional shopping as well, from a bookstore and two antique stores to a gift shop with plenty of things to bring home to friends who weren't able to visit Annapolis with you.
Charles Carroll House of Annapolis | @historiclondontown
Living History
Annapolis was one of the first cities designated as a National Historic Landmark District (NHLD), and for good reason. The Historic District has been described as a "living microcosm" of the 18th and early 19th centuries, with the must-see Maryland State House dating back to 1772 and St. Anne's Episcopal Church having been founded nearly a century earlier in 1692. The district hasn't lost any of its charm or beauty in the hundreds of years since it first came into existence. Visitors can still stop by historic homes like the Hammond–Harwood House and Aristan's House and catch a vivid glimpse of America's early days.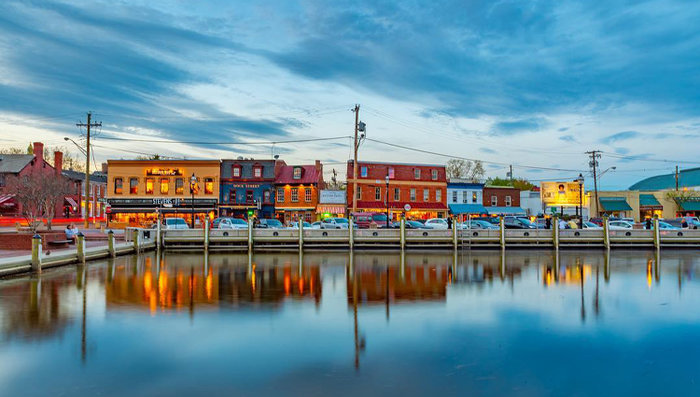 Annapolis City Dock | @jjshotography
Right Up Your Alley
Name notwithstanding, Ego Alley is actually a waterway leading to Spa Creek. Some of the most luxurious boats you're likely to see can be found here, especially during the evening and all throughout the weekend. Stop at Storm Brothers Ice Cream Factory, which makes the people-watching all the more enjoyable. Annapolis has a lot to take in, especially for a relatively small city, so take a breather on one of Dock Street's many benches and relax before, say, taking a sailing cruise courtesy of Schooner Woodwind. Options abound, from sunset sails and multi-day cruises to Wednesday night races and the overnight Boat and Breakfast experience — a treat capped off in the morning by the special Woodwind parfait.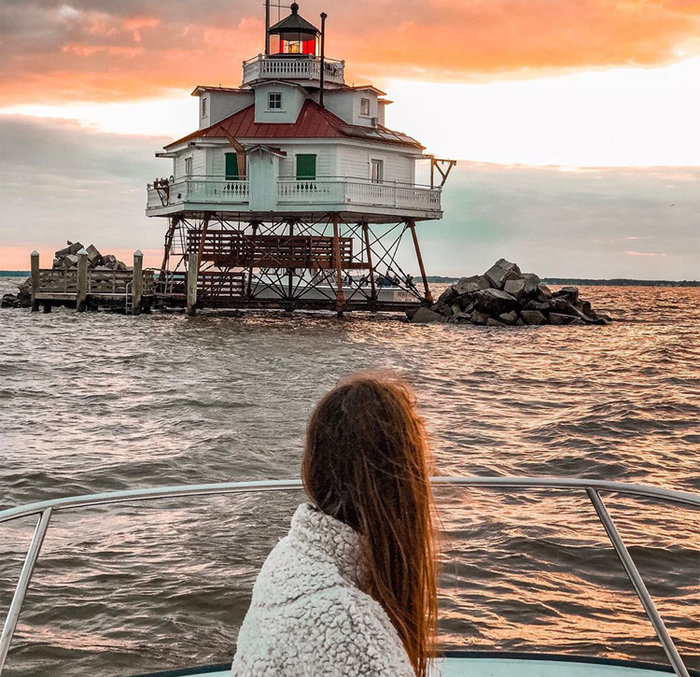 @travelislovexoxoalli
"Annapolis is such a cute and amazing place to visit! Some of my favorite things to do are cruise around the Chesapeake on a boat, get up-close views of the Thomas Point Shoal Lighthouse, which is one of the most unique looking lighthouses I've ever seen, go paddle boarding in the south river, and watch the sunsets over the water from my parents dock!"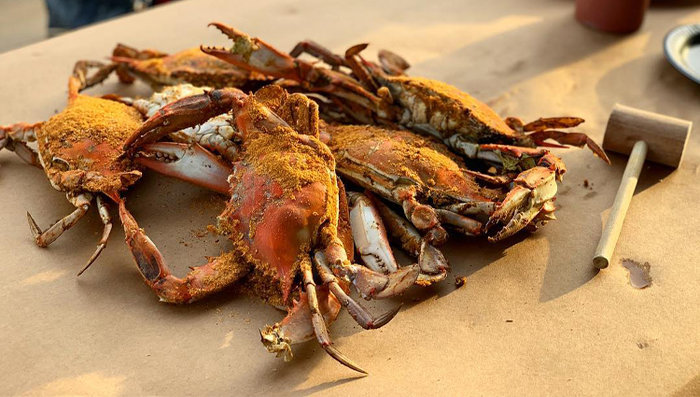 Cantler's Riverside | @taste_buddies_
Where the Watermen (and Crabs) Gather
You didn't think you could visit Annapolis and not eat crab, did you? Cantler's has it every which way: in soups, salads, sandwiches, rolls and just about anything else you can think of. It even offers free docking to those who arrive by boat. If seafood doesn't float your boat, Dry 85 is closer to the "turf" end of the surf-and-turf spectrum. It has the vibe of a Prohibition-era speakeasy, with all the craft beer, whiskey and comfort food that description implies.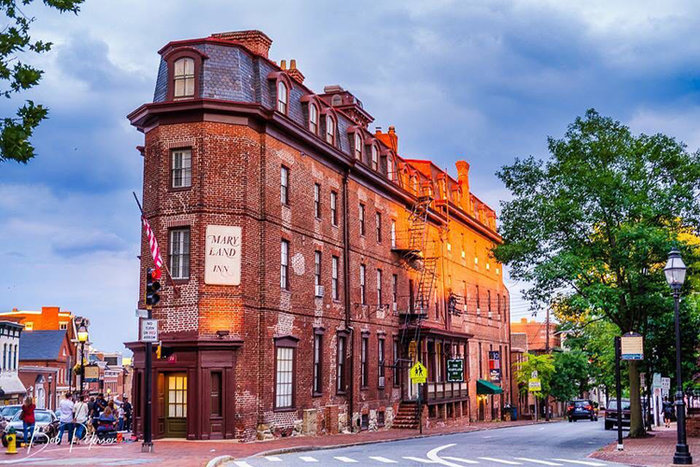 The Maryland Inn | @bobpetersonphoto
Three Inn One
Consisting of three different locations — the Maryland Inn, Governor Calvert House and Robert Johnson House — the Historic Inns of Annapolis hark back to the city's Victorian roots and are all within walking distance of Chesapeake Bay's main attractions. You'll check in at the Governor Calvert House regardless of which inn you choose, with the Maryland serving as a kind of flagship location that drops you right in the city center. If you'd like to be even closer to the Bay, go with the Annapolis Waterfront. True to its name, the hotel is situated directly on the harbor and offers striking views of the boats, docks, and seafarers.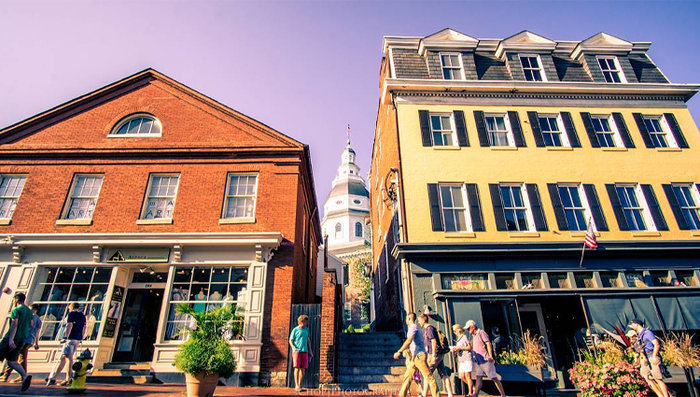 #visitannapolis | @charmingchop
Wander Around
"Be sure to bring walkable shoes and sunglasses. Grab a latte at City Dock Coffee and check out the water. The market house is a great spot to grab an afternoon beer." – @jennrog
Just Relax
"Quiet Waters park is a perfectly well-kept hidden gem right outside the hustle bustle of downtown. You can walk through several wooded trails, enjoy a picnic overlooking the Chesapeake Bay, or even allow your dog to go swimming at a secluded dog beach." – Tori Zepp