Bem vindo a Sevilha! Uma cidade romântica, animada, uma combinação de suntuosa comida, arquitetura de tirar o fôlego e do ritmo de flamenco de Sevilha que atinge as notas certas. Uma visita a Sevilha é preenchida com os prazeres simples da vida que vão colocar um sorriso até mesmo no rosto mais cansado.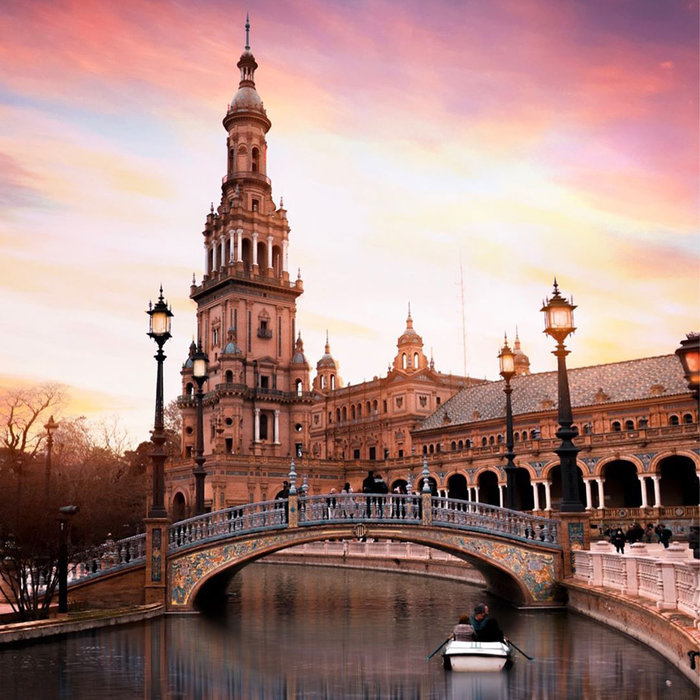 Seville, Spain | @ken4photo
Drumroll please… Welcome to Seville! There's no better spot to celebrate 100 editions than Seville, because nowhere else in the world knows how to celebrate life quite like this passionate city. Romantic and lively, Seville's combination of sumptuous food, breathtaking architecture and flamenco rhythm hits all the right notes. A visit to Seville is filled with the simple pleasures of life that will put a smile on even the weariest face.
Fun Fact:
The Seville Cathedral is the final resting place of Christopher Columbus.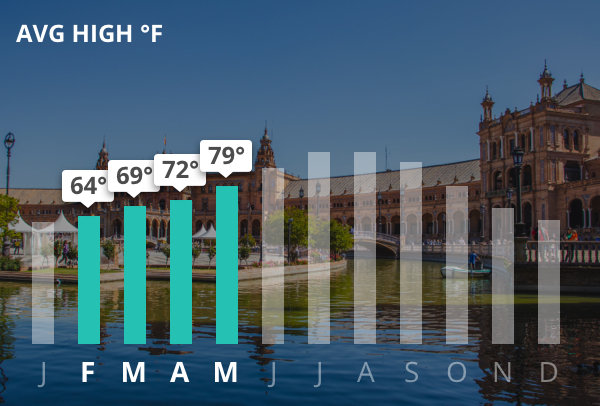 @cinders_zhang
February – May
Sunny Seville is beautiful year-round, with high temperatures in the summer and mild temperatures in the winter. Travel in spring, as soon as the temperature begins to climb, for the best weather. You'll also have the added bonus of enjoying two of the most popular fiestas in the city — the Semana Santa and the Feria de Abril.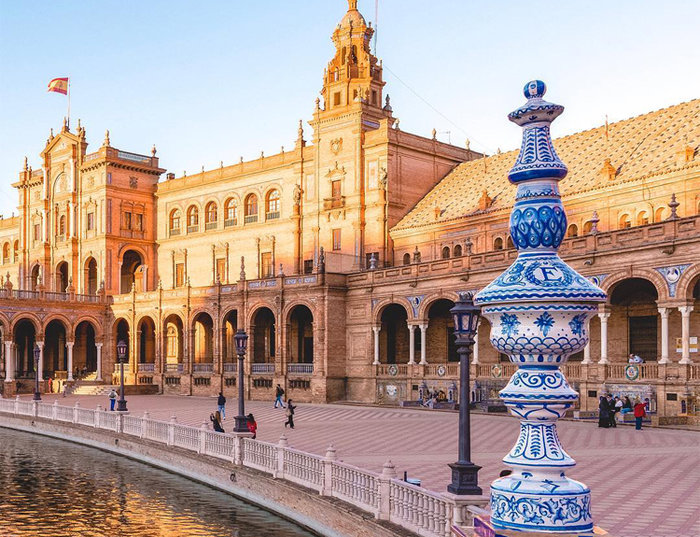 Plaza de España, Seville | @baroudeurfrancais
Will the Real Alcázar Please Stand Up?
Seville is most recognizable for its collection of diverse architecture, which includes Moorish palaces, Gothic churches and ornate designs. The star of the show is the Plaza de España, an impressive brick structure featuring long, curving corridors, dizzying tile patterns and bubbling fountains. Next on the list is the Real Alcázar Palace, a royal residence that dates back to the seventh century and still occasionally hosts the Spanish royal family. Christian and Mudéjar influences decorate this stunning structure that includes open courtyards and large, ornate halls. Finally, spend a day marveling at the Catedral de Sevilla and La Giralda, the largest Gothic building in Europe with more than 40 chapels on site.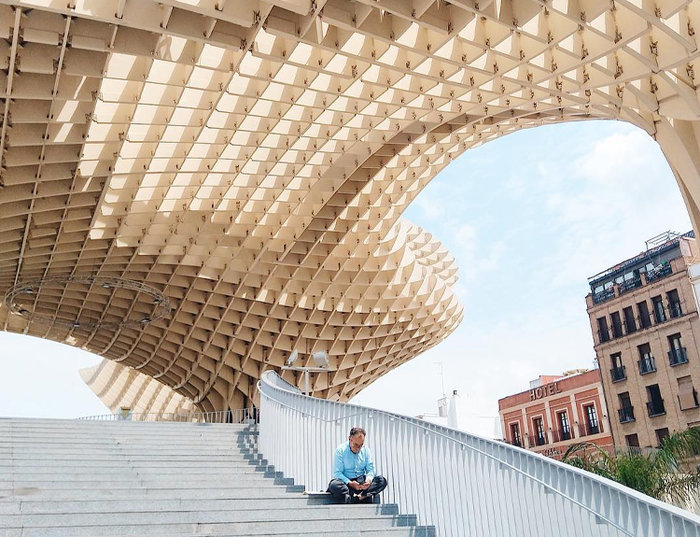 Metropol Parasol | @andykwhau
Find Your Muse
Seville's museum scene is a diverse treasure trove, with a spot for every taste and interest. For traditional art, visit the Museo de Bellas Artes, while contemporary fans should stop by the Andalusian Contemporary Art Centre. Dancers will appreciate the Flamenco Dance Museum and history buffs will satisfy their curiosity at the Museo de Castillo de San Jorge, a historical exhibit housed in the former headquarters of the Spanish Inquisition. Finally, if you prefer to stay outside and enjoy the sunshine wander the Metropol Parasol, the world's largest wooden structure, which offers five levels to explore and stunning views of the city from the top.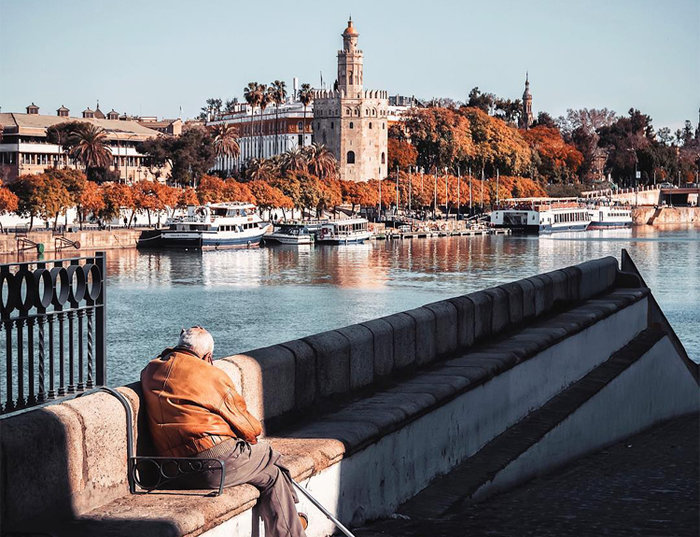 Triana, Andalucia, Spain | @markomorciano
Step to It
Navigate your way through the winding alleys of Seville's neighborhoods and you'll discover something new to love around every corner. You'll spend most of your time in Barrio Santa Cruz, the city's former Jewish corner, searching for your own tapas bar or plaza shaded by orange trees to kick your feet up. This is also the best part of town to see flamenco dancers strut their stuff, both in the streets and at the famed Casa del Flamenco. When you're ready, make your way across the Guadalquivir river to the Triana district, where you can stroll the stalls of the Triana Market or explore the ceramic creations at Centro Cerámica Triana. Keep your camera out while you wander, as you're sure to stumble across beautiful, ornate doorways and tile-covered monuments around each corner.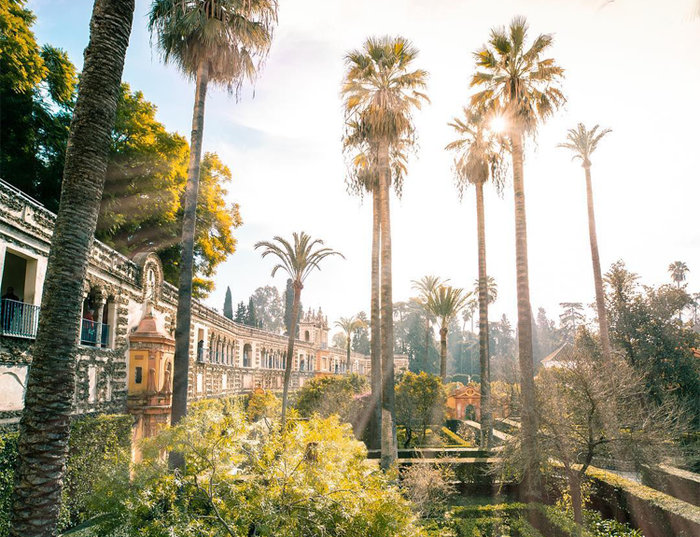 Real Alcázar de Sevilla | @franlopietrii
Feeling Shady
Seville's many winding corridors find shade beneath palm trees and orange trees that give off an intoxicating scent. But if you need some more greenery, head to Maria Luisa Park. Here you'll find long, shaded pathways, grassy meadows near ponds and the famed Plaza de América, flanked by museums and stunning gardens. If you need to get farther out of the city, head to the gorgeous Andalusian countryside, touring the quaint villages that dot the region, or to the coast, to seaside spots like Nerja that offer a quieter escape.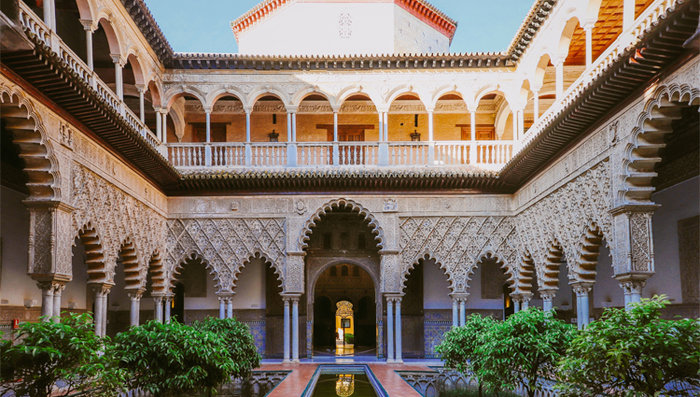 @cinders_zhang
"Explore the Alcázar of Seville, which was a Christian royal palace built on a Muslim residential fortress. Its unique architecture is influenced by a rich history of Christian and Moorish rule. Be sure to visit the Hall of Ambassadors, which contains a beautifully detailed ceiling. If you're a Game of Thrones fan, you might also recognize the Alcázar's Patio de las Doncellas courtyard, which was used in the filming location of the Kingdom of Dorne. There's lots to explore in this huge palace, including lush outdoor gardens adorned with palm trees and the Baths of Maria De Padilla, which is an underground pool."
A Different Way to Travel
We were so excited to team up with our friends at G Adventures to bring you our 100th Edition! Their mission is like ours — inspiring others to get off the beaten path and immerse themselves in the extraordinary. They offer top-tier small group tours that bring you into local cultures, and their guides can have you dancing the flamenco or whipping up your own tapas in no time.

And they're even helping us send a lucky Discoverer to experience Seville, and the rest of Moorish Spain, in person! Enter to win here. But even if you don't win the big prize, you can still score 20% off their tours with the promotion code:

19GAV020ADV01

.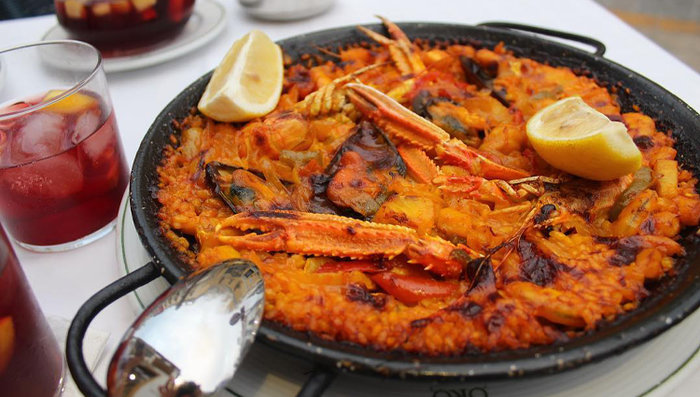 El 3 de Oro | @ileana_ny
Tasty Tapas
If you're a fan of flavor, you'll love what Seville has to offer. A blend of spices come together in hearty dishes to fuel your Spanish fire. First off, let's talk about tapas. Seville makes a strong case for having invented this small plates trend, and you'll find yourself squeezing into many tapas bars, indulging in traditional dishes like salmorejo (cold tomato soup) and Jamón Ibérico de Bellota (Iberian ham). Stop at Casa Morales and El Rinconcillo (the oldest bar in the city) to compare plates. If you need a heartier meal, make your way to El 3 de Oro for some of the best paella in the city. Follow your meal with a good vermouth or sweet orange wine to cap off the night.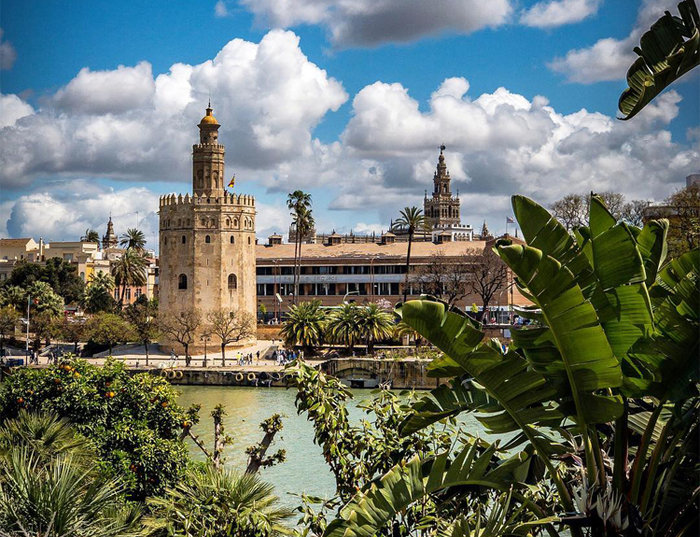 #sevilla | @marci13c
Habla Español
"It definitely helps to have a solid background in Spanish here! The people of Seville have an accent where they drop the last consonant (cortado in Spanish turns to "cortao"), so it might be hard for some to understand. I have been to Seville three times, and I love it more every time I go!" – @tinydancer418
Plan Ahead
"For the Alcazar, if you can buy tickets ahead, buy them online for the earliest possible time. If you can't, don't worry - arrive 30-45 minutes early and you can save yourself a lot of time (and heat) later in the day. Regarding the cathedral, within the past year or so, they opened up a new opportunity to tour the rooftops! This can only be booked online and is really a fascinating tour. Tickets for this do go quickly, so you want to buy them ahead of time." – @ericthetraveler