A Pérola do Adriático passou por um revival extremo na última década. De uma cidade marcada pela guerra a um dos destinos europeus mais quentes, Dubrovnik realmente floresceu, e por um bom motivo... Com o mar azul percorrendo os seus muros de pedra, as escadarias pitorescas erguem-se até encontrar bairros pitorescos. Um local encantado que irá encantar-te!

CROATIA
Dubrovnik, Croatia | @worduuup
We see you, Dubrovnik. The Pearl of the Adriatic has undergone an extreme revival over the last decade. From a war-scarred city to one of the hottest European destinations, Dubrovnik has truly blossomed. And for good reason. With the azure sea licking its ancient stone walls, and picturesque stairwells rising to meet quaint neighborhoods, even the biggest cynic will be charmed by this ancient port.
Dubrovnik, Croatia
N 42.65° / E 18.09°

#FunFact
Dubrovnik has long been an advocate for freedom and justice. The city was one of the first to recognize the United States as its own country during the Revolutionary War. It also abolished slavery 600 years ago in 1416, making it one of the first in Europe to do so.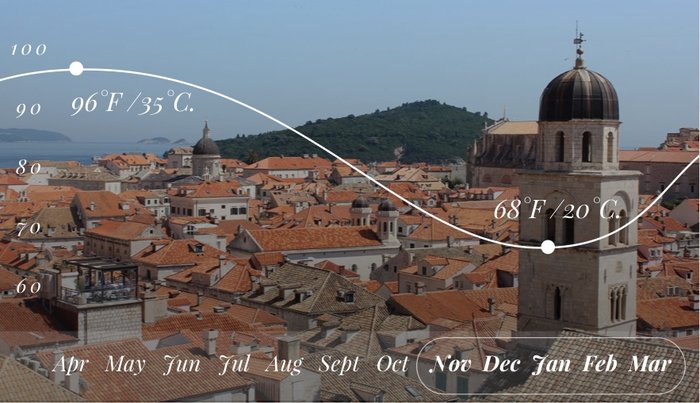 @calmlykaotic
November-March
Thanks to those sneaky Lannisters over on Game of Thrones, Dubrovnik has seen a massive surge in tourism in the past few years, which has caused quite a few problems for the city. Crowds are threatening the city's UNESCO status, so the mayor has limited the number of cruise ships and tourists allowed in. With that in mind, consider planning your trip in the off season. It might require some creative planning and a sturdy umbrella but trust us, Dubrovnik is just as gorgeous.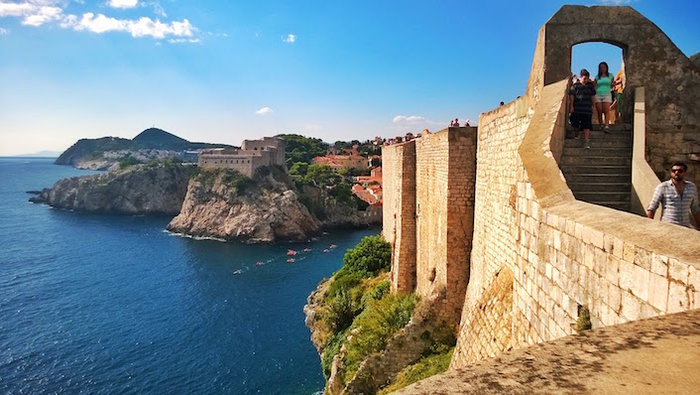 Walls of Dubrovnik | @unicorn_diary.blog
Beyond the Wall
Encircling the old city of Dubrovnik are its iconic stone walls. These bad boys have never been breached, and today draw visitors from around the world. Climb up onto the stone walkways and just explore, peering down into the many corners of historic Dubrovnik. Pass through the impressive forts, like Lovrijenac and Bokar, to feel like you're in Game of Thrones. Side Note: This is one of the most touristy parts of the city, so get there early in the morning before the cruise ship crowds arrive and leave before lunch, as the restaurants around here tend to be more expensive.
Island of Lokrum | @siljemjo
Isle Be Back
Situated on the turquoise Adriatic Sea, Dubrovnik is in close proximity to several incredible islands. Most people will swear by Lokrum island, with its lush botanic gardens and roaming peacocks. But if you aren't satisfied with just one island adventure, there's plenty where that came from. From the idyllic Elafiti islands to sunny Hvar to the remote Lastovo municipality, go island hopping for a day (or a week) and soak up the sun.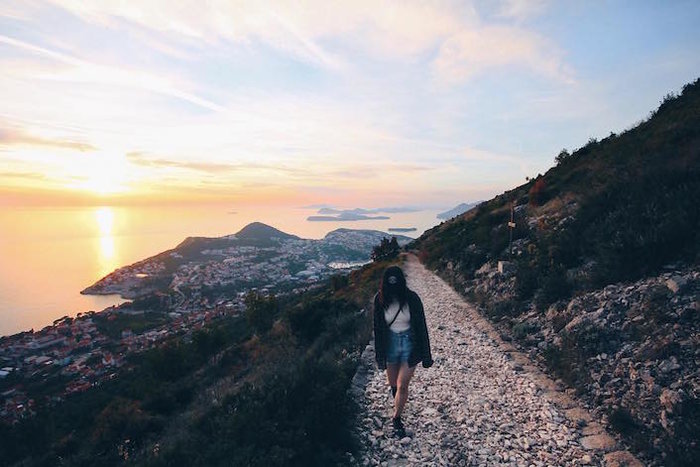 Mount Srd, Dubrovnik | @mahvibes
The Hills Are Alive
Dubrovnik's charming alleys and historic wonders can occupy you for hours, but if you find yourself feeling a little claustrophobic, strike out into nature. The most popular retreat is nearby Srđ hill. With a breathtaking cable car ride to the top, panoramic views of the city, and a tasty restaurant, it's easy to see why most people flock here. You can also skip the cable car and take a hiking trail to the top to catch an unbelievable sunset. If you want to get even more off the beaten path, head to local favorite Park Orsula or Velika Petka hill south of Lapad Bay. There are plenty of quieter hikes throughout these areas with incredible cliffside views.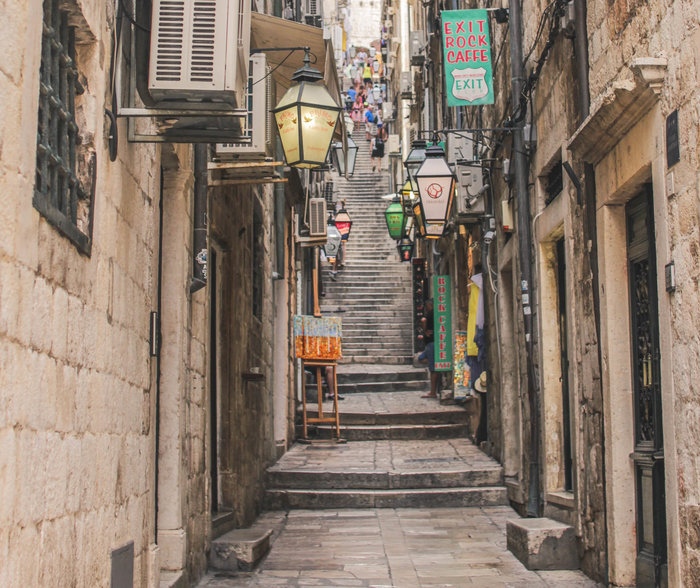 #dubrovnikonmymind | @emkanch
Just Around the Corner
Dubrovnik puts on a good face for the thousands of tourists that visit each year. It's a wonder to see, but when you want to get local, head outside old town and into the outskirts of the city. Ascend the narrow streets and steep stairwells to discover hidden corners, like Pile district. Or, take the coastal route and look for hidden beaches such as Pasjaca Beach. If you take the time to travel a little further than other tourists, you'll discover the true soul of Croatia.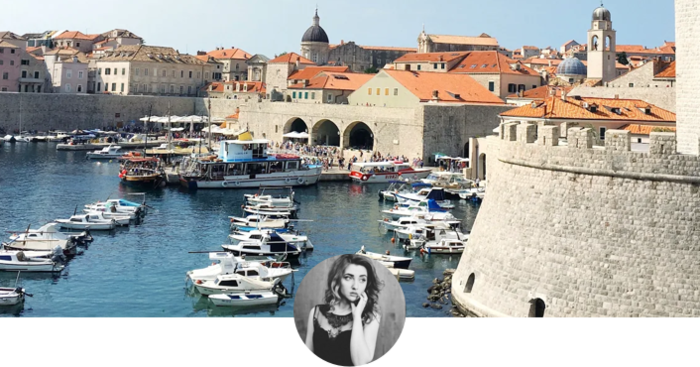 Liliya's Discovery
@just.dream.lili
"Start exploring Dubrovnik from the main gates which lead to houses with orange roofs and narrow streets. You will see the beautiful harbor through holes in the bridge which resemble ornaments of Van Cleef jewelry. Don't use the main tourist streets in the city; the real soul of Dubrovnik is on its narrow streets and high paths of stairs. For those who get tired of walking around, stop by the harbor. Feel like a local - grab a cube of ice cream and find a comfortable bench with a nice view. Now you are ready to watch the sunset. When the sun goes down street musicians start to play and that is how a day in Dubrovnik should end."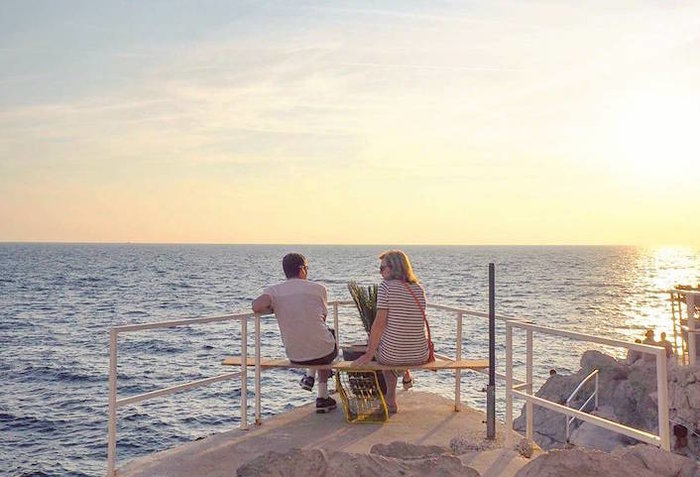 @crownsandpeacocks
Sea to Plate
Situated this close to the sea, Dubrovnik delivers on the seafood and stunning views. Keep in mind that restaurants in the old town tend to be more expensive, so when your stomach starts growling head out of the main district up into the narrow back alleys to find some hidden gems. If there's one touristy location you should check out, it's Buza Bar. Carved into the side of a cliff, you enter this bar through a literal hole in the wall for tasty cocktails and an seaside view. Get there a little early before it gets packed.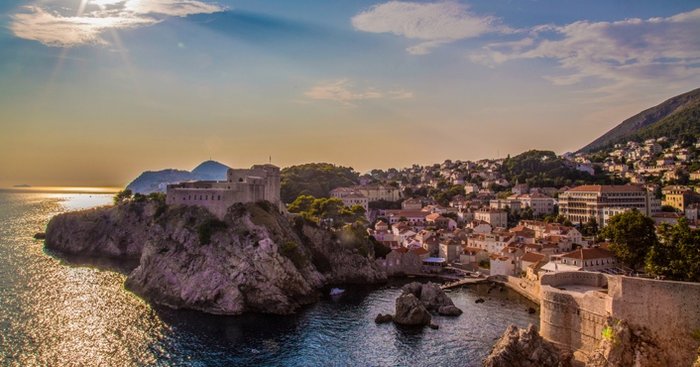 #ilovedubrovnik | @playfullens
Stock Up
I would recommend buying basics like sun cream, bottled drinks, etc. outside of the old city as prices do go up a lot. Also, the water from the big fountain that you pass when coming through the main entrance is drinking water, so refill your bottles for free. - @christie.rawcliffe
Plan Ahead
Try to plan your trip around the big cruise ships that come into port. If you can, book dates when there won't be any, or only a few small ones. The first day we arrived there was a very large cruise ship and the old town was standing room only. So if you actually want to enjoy your trip, plan it around the cruise schedule. (This can be found by searching 'Dubrovnik cruise ship schedule'.) - @natalienrc
Pack it Up
It's a really good idea to travel with a backpack as climbing the thousands of stairs in Dubrovnik with a suitcase is not ideal. - @amelia_strofield