Riomaggiore, Manarola, Corniglia, Vernazza e Monterosso Al Mare são as famosas Cinque Terre (cinco terras) cravadas na costa italiana da Ligúria. Uma região turística especial, cercada de uma paisagem natural que mais parece ter saído de um filme: mar de um azul estonteante e colinas "adornadas" por edificações coloridas, em meio a terraços de oliveiras e uvas usadas para a fabricação do vinho Sciacchetrà.
As cinco vilas oferecem vistas magníficas que vais querer conhecer!

ITALY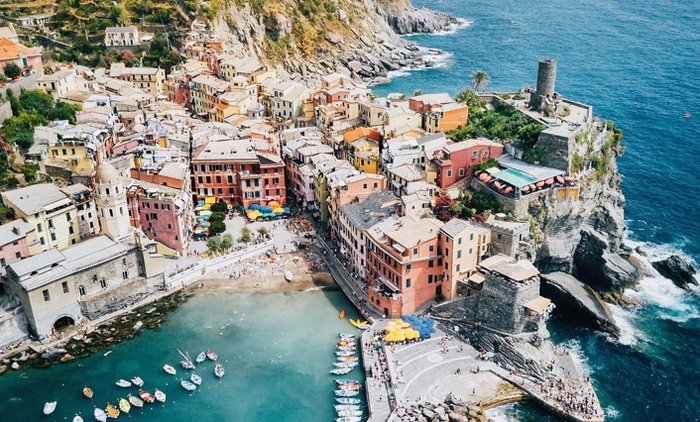 Cinque Terre | @boyanoo
With a whole wide world of fantastic places to choose from, we had a tough time picking just one destination to kick off 2018. So we cheated a little and picked 5. Cinque Terre is a web of picturesque Italian towns and groppos that stretch along the scenic Italian Riviera coastline. Implied in the name ("cinque" meaning five and "terre" meaning lands) there are five large villages in the area. Each town warrants its own feature, but it would be criminal to separate them. Collectively they make up one of the most idyllic destinations in all of Italy.
Cinque Terre, Italy
N 44.13° / E 9.70°

#RepeatAfterMe
Cinque Terre = Cheen-kweh Tehr-reh.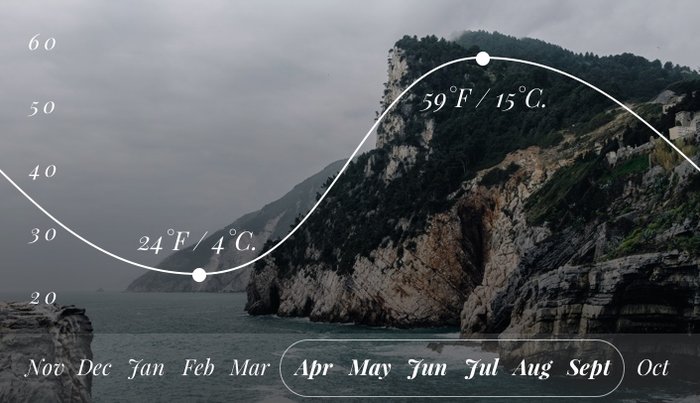 @greceres
April-September
Book your flight during the prime months of April through September to experience everything Cinque Terre has to offer. The summer months will be met with more tourists, but the weather is perfect for hiking and swimming in the sea. You might want to check out some festivals too, especially the ones that revolve around food: Lemons in May and Anchovies in September. Also, each town honors its own patron saint, with celebrations throughout the summer.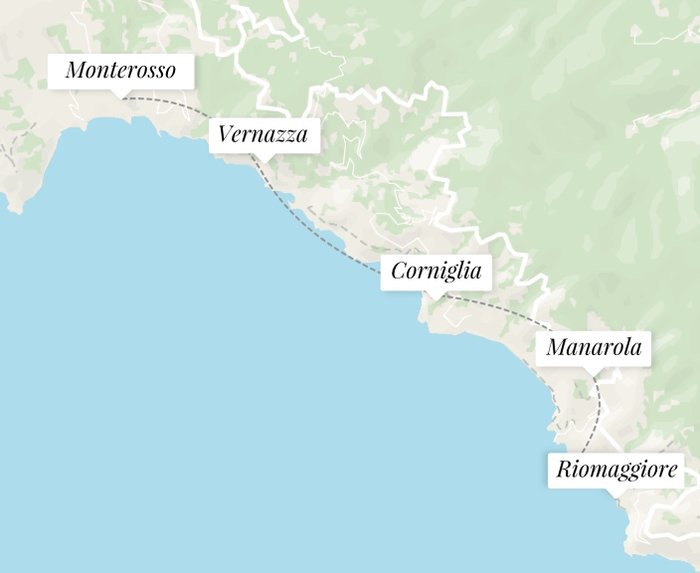 #cinqueterre
Get to Know the 5 Lands
Scattered along the dramatic Italian coast, these 5 tiny towns make a big impression. Painted in pastel hues and overlooking the gorgeous turquoise of the Mediterranean Sea, these fishing villages make for a bright and soothing escape. Get to know the distinct personalities of each town as you check them off your list.
Riomaggiore
Manarola
First up is this tiny coastal town that has one main street and is watched over by a medieval castle. It's often touted as the most idyllic of the 5 towns, but who are we to judge?
Next in line is Manarola, another one-street wonder that is the oldest town in the bunch. This little village is famous for its postcard view of the fishing harbor.
Corniglia
Vernazza
The smallest of the towns (which is saying a lot), Corniglia is the only village not built right on the sea. Sitting atop the cliffs, this town offers gorgeous views but steep hikes.
Vernazza is the only natural port in the region and remains a popular fishing village. But the real draws are the elegant houses and the historical landmarks.

Monterosso al Mare
Last but definitely not least, Monterosso al Mare is the biggest town in the group, with multiple streets and even a few cars. It's also home to the only true sandy beach in the region.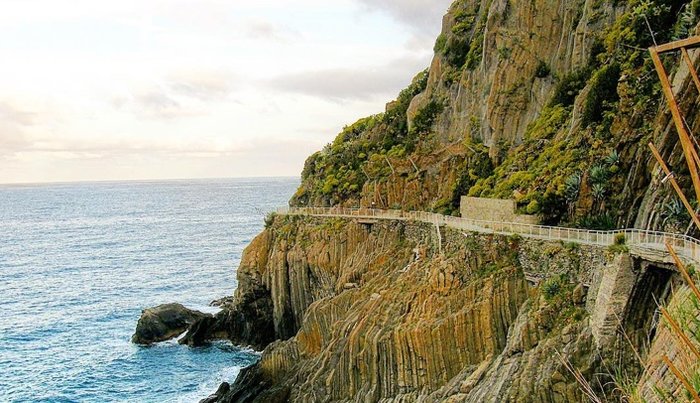 Via dell'amore | @dimsum_croissant
Lace 'em up
Let's talk hiking. The five towns are connected by Via dell'Amore, "the way of love." This is the easiest and most popular way to walk between the cities. You can also hit up the Mountain Trails, a more challenging series of hikes that take you up into the hills. But remember, hiking Cinque Terre in one afternoon is doable but should never be rushed. The magic of the hike lies in the discoveries you'll make along the way. We're talking journey, here, not destination.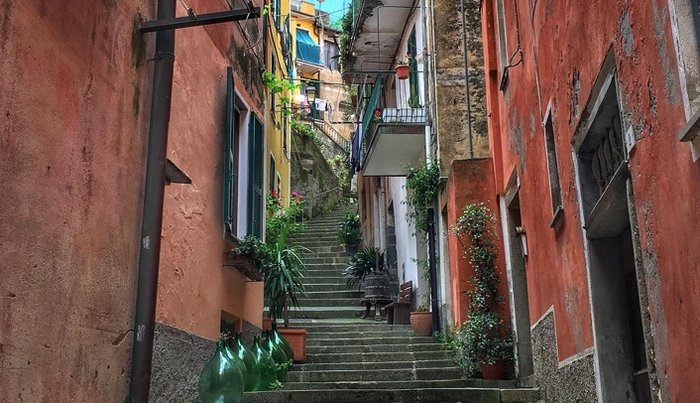 #monterosso | @agkmay
All I Got was This Crappy T-shirt
Don't forget those who weren't lucky enough to come along with you to paradise. Spend some time exploring the cobblestone streets of Monterosso Al Mare. You'll find a plethora of handcrafted pottery, jewelry, and clothing that make the perfect, authentic souvenirs for friends and family back home. Keep an eye out for drying laundry and potted plants that make this maze of streets a quaint wonder to behold.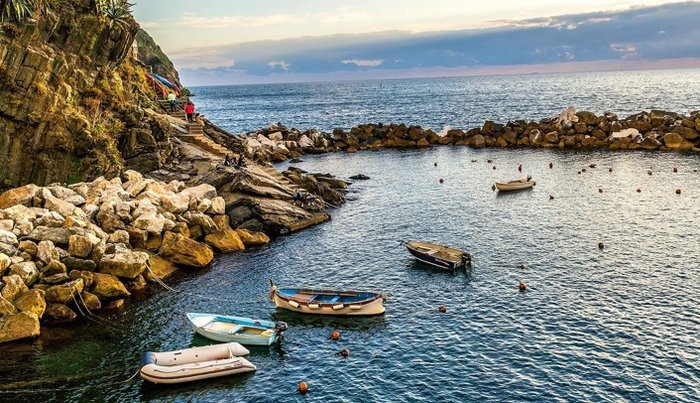 Riomaggiore | @shriraj30
Row, Row, Row Your Boat
Get a postcard-perfect view of Cinque Terre from the best seat - the water. Rent a kayak or motorboat and get up close and personal with the rock formations carved and crafted by the water. Take a dip in the Mediterranean Sea, and work on your tan. Bonus: Watch the fishermen retrieve your dinner for the evening. Can you say, "farm to table?"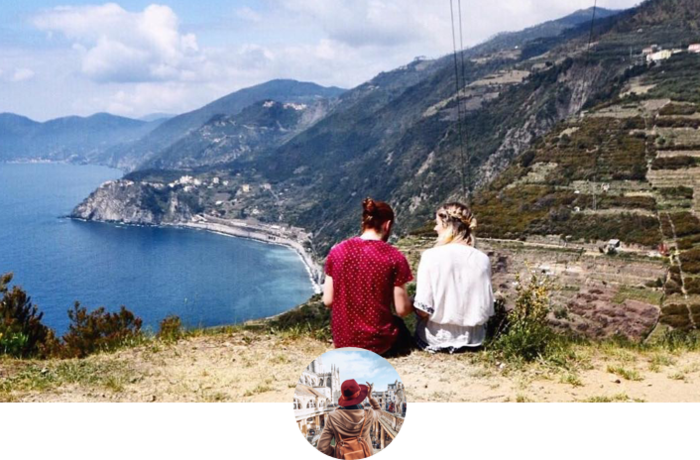 Lily's Discovery
@lilyslensonlife
"Whether you're in for a relaxing holiday in the sun, or a chance to do a bunch of outdoor hiking along the Riviera, Cinque Terre has it all. We ended up talking to other travelers during our time there and took recommendations on which hikes were among the favourite and more suited to our interests! We even changed our original plan, based on someone else's advice. May you have the best adventure and create your own unique and wonderful memories in this beautiful and unique area of Italy."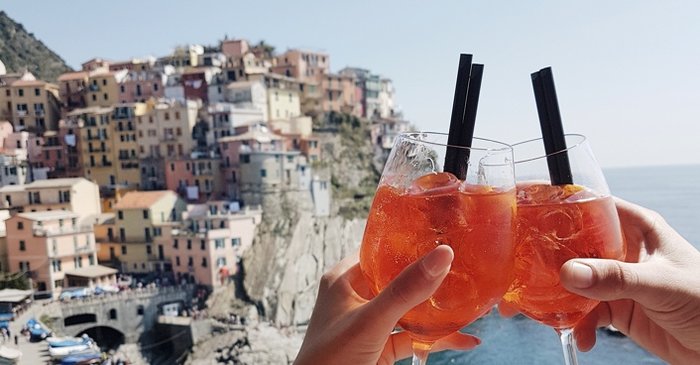 @sandra_kirkov
Three Cheers for Pesto!
Discoverer Em puts it perfectly: "You haven't experienced the joy that pesto sauce brings unless you eat it in Cinque Terre." One dish you can't miss is the pesto pizza at Baia Saracena in Vernazza. Wash it down with a glass of Sciacchetrà, a sweet dessert wine that is native to Cinque Terre. Prop your feet up, look out over the Mediterranean, and savor the good life.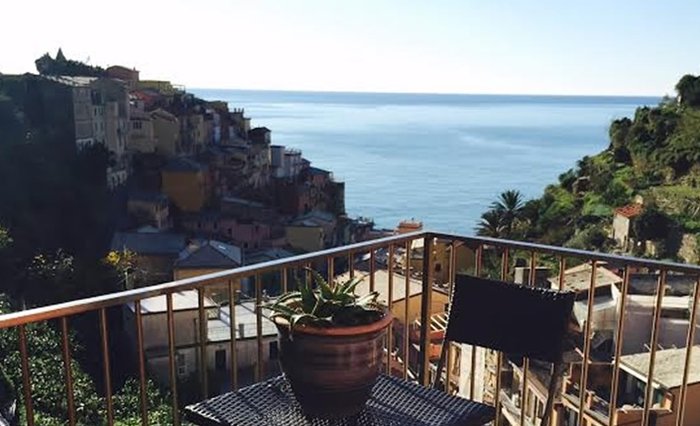 Torrettas
Up in a Tower
La Torretta lodge is a converted medieval tower with views overlooking the sea. Located above Manarola, this lodge's unique charm and central location make it a to-die-for place to call home for a while.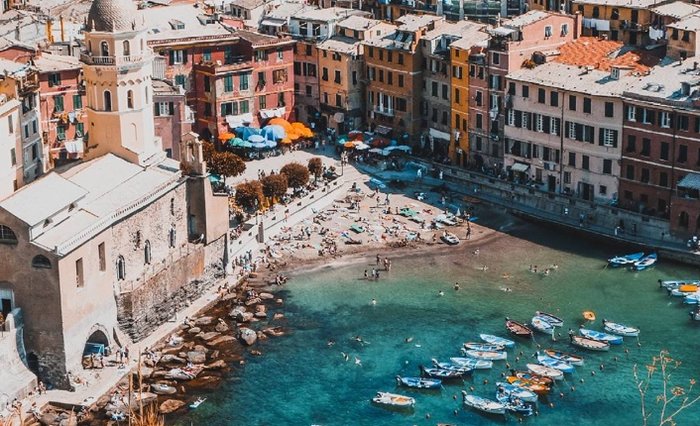 Cinque Terre | @traveling.couple
Get Your Compass Out
Remember! Cinque Terre is actually five villages, so don't go looking for train schedules for all of Cinque Terre. Instead, make sure you know the name of the town you are heading to and make your plans accordingly. Once there, you won't need to rent a car or even a bike. Walking is your safest bet, and you can take the train between towns easily.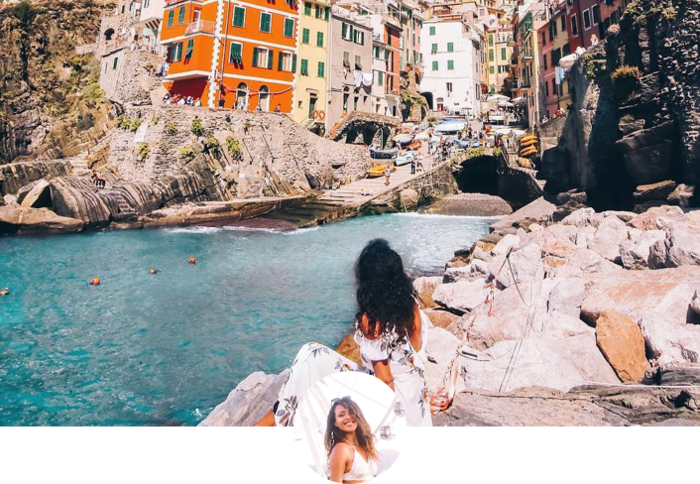 Hélène Alexia
@girlborntotravel
| | |
| --- | --- |
| COUNTRY COUNT | FAVORITE DISCOVERY |
| 45 | All of them |
"I Discover To...challenge myself."
"Cinque Terre captured my heart! I loved hiking from Portovenere to Riomaggiore (but the hike was very challenging - it took us almost 4 hours to complete it). But I also loved walking along the water of Monterosso, eating gelato every day and trying the local food. "