Há mais em Byron Bay do que as praias inspiradoras, mas não há como negar que aquelas praias douradas continuam a ser a principal atração. O ponto mais oriental da Austrália possui menos de 10.000 residentes permanentes, mas atrai quase dois milhões de visitantes a cada ano, número que certamente aumentará à medida que mais pessoas conhecerem e aprenderem sobre o seu esplendor natural. Poucos lugares são realmente para todos, mas é difícil imaginar alguém que não encontre algo para amar em Byron Bay.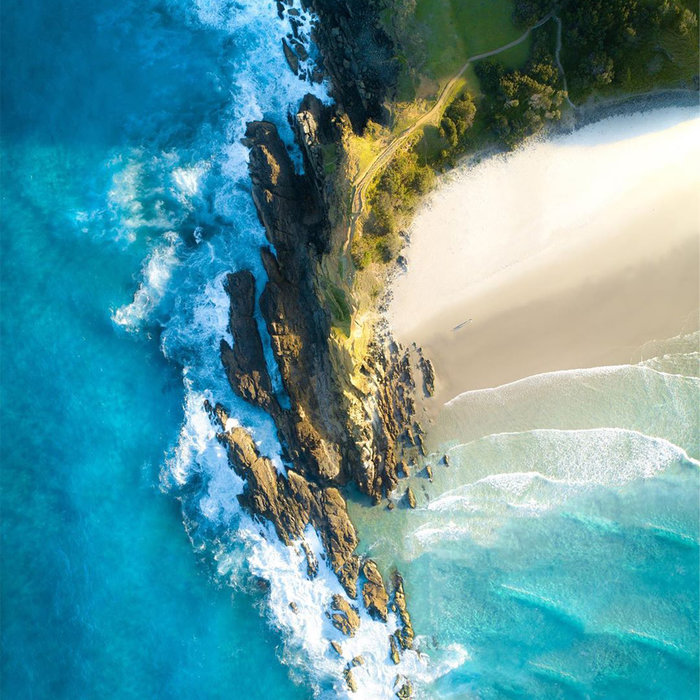 Byron Bay, New South Wales | @merrwatson
There's more to Byron Bay than the awe-inspiring beaches, but there's no denying those golden shores remain its main draw. Australia's easternmost point is home to fewer than 10,000 full-time residents but attracts nearly two million visitors each year, a number that's sure to rise as more people learn about its natural splendor and killer food scene. Few places are truly for everyone, but it's difficult to imagine anyone failing to find something to love about Byron Bay.
Fun Fact:
Byron Bay is known as Cavvanbah ("meeting place") by the Arakawl people, whom the area acknowledges as its "traditional owners."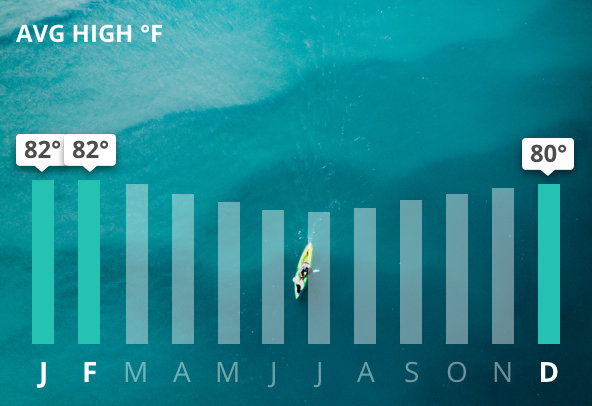 #byronbay | Florent Rols
December — February
Warm but rainy, Byron Bay is genuinely pleasant year-round. The water tends to be warmest at the beginning of the year, however, which means more opportunity to get your feet wet. The occasional sun shower is nothing to be afraid of in a spot this gorgeous.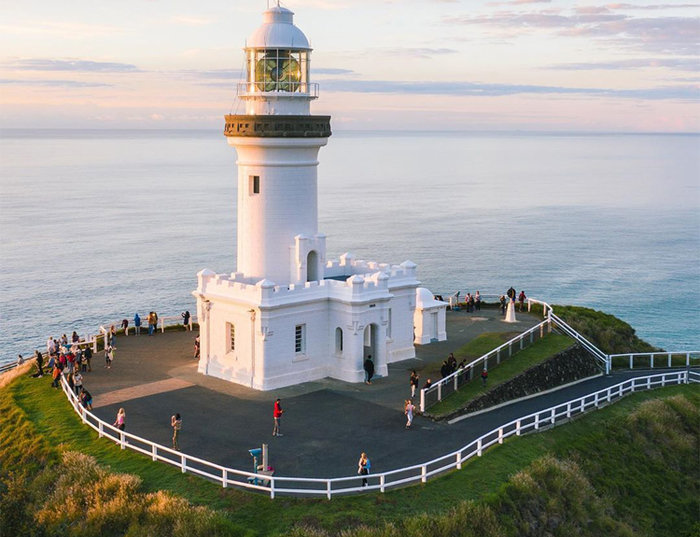 Cape Byron Lighthouse | @cat_food_taco
Light Between Oceans
Want to see the most powerful lighthouse in Australia? You'll find it and so much more in Cape Byron. The Cape Byron Lighthouse has been guiding ships home since 1901 with an intensity of 2,200,000 candelas, which in layman's terms means it gives off a very bright light. In addition to being a beautiful landmark in its own right, Cape Byron Light is also a great spot for whale-watching.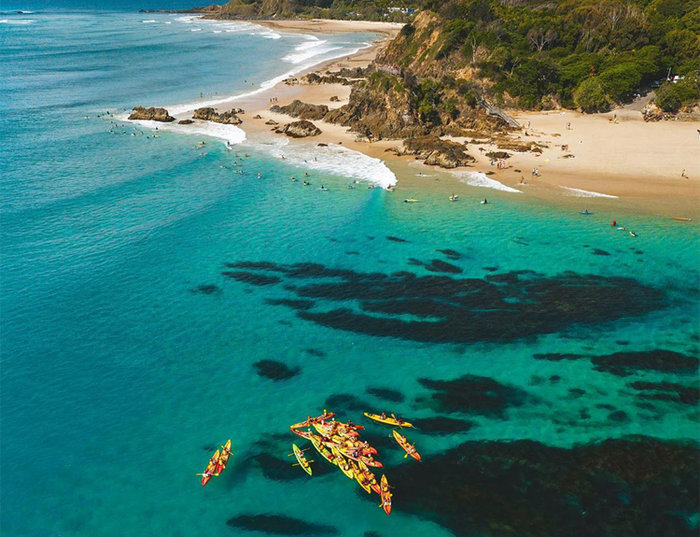 Byron Bay | @jamesvodicka
Kayak with Dolphins, Snorkel with Turtles
This is the northeastern corner of New South Wales, so get in the water with the locals. And by "locals," we, of course, mean dolphins, turtles, and whatever other creatures you're lucky enough to see while kayaking and snorkeling through Julian Rocks Marine Reserve and the Brunswick River. The waves are crystal clear and the marine life is friendly, so bring your best bathing suit and waterproof camera.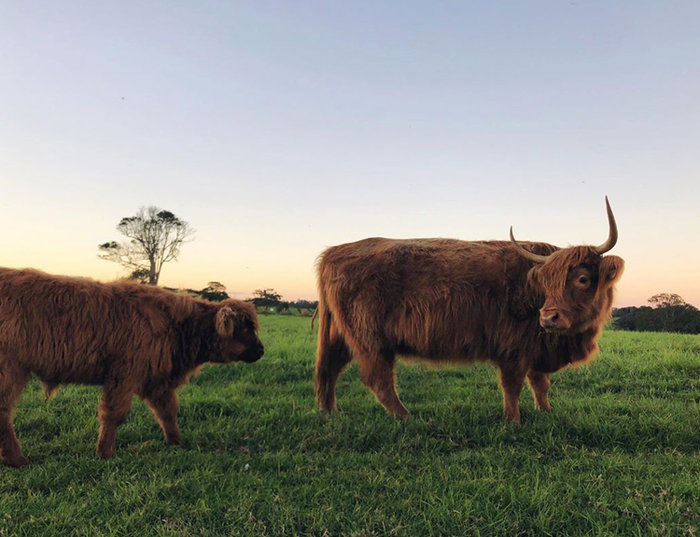 #thefarmbyronbay | @katiegoldingg
Grow, Feed, Educate
If you're into sustainability and great food, one spot in Byron Bay is a must. A small community of micro-businesses can be found at The Farm, all of them operating under a shared principle: "grow, feed, educate." The 80-acre working farm is entirely pesticide-free, and the pigs, cows, and chickens are never confined to cages. There's a nursery, produce store, and restaurant to browse, not to mention horseback tours and farming workshops.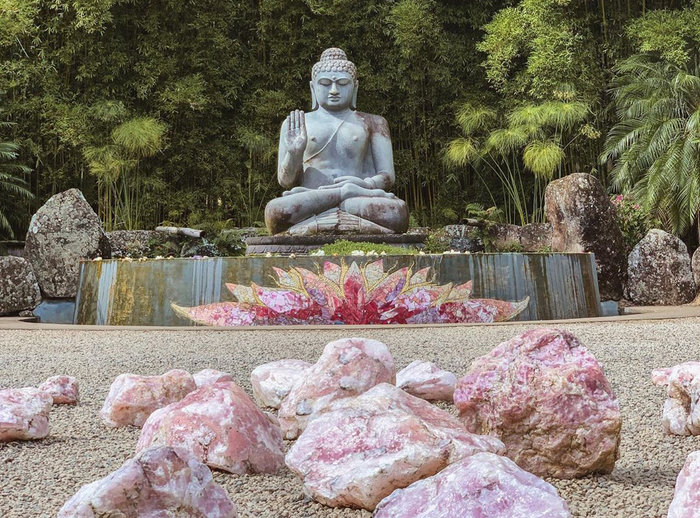 Crystal Castle | @jesslynbelinda
Charge Your Crystals
Anyone who believes in charging rose quartz and amethysts on a full moon is more or less obligated to visit the Crystal Castle, home to the largest natural crystals in the world. It's a calming place even for those who don't consider themselves the least bit New Age, with striking beauty at every turn: an ancient amethyst cave, a mural called Wings to Eternity, and the botanical Shambhala Gardens all offer their own kind of serenity.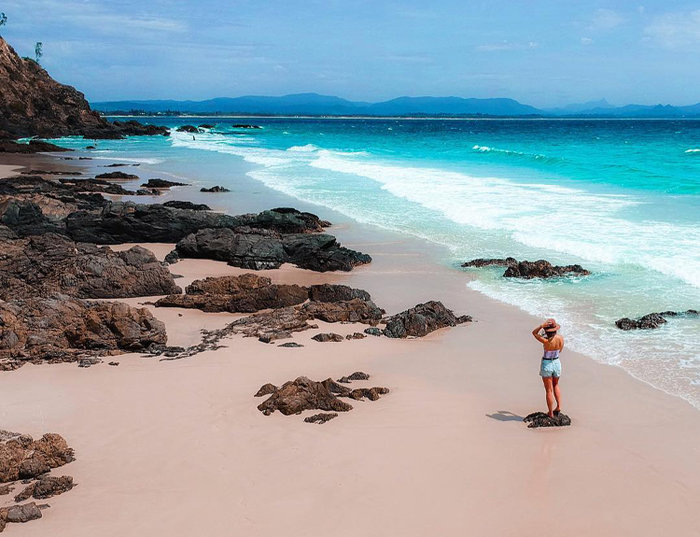 @seafoam_soul
"What's not to love about Byron Bay? Beautiful pristine beaches, coastal walking tracks, an abundance of great cafes and restaurants serving up fresh quality food, and only a 50-minute drive south of Gold Coast airport. Plenty of wonderful childhood memories spent in Byron Bay, with many more being created with each visit. It doesn't matter how many times I come here, I am forever in awe of Byron's endless beauty."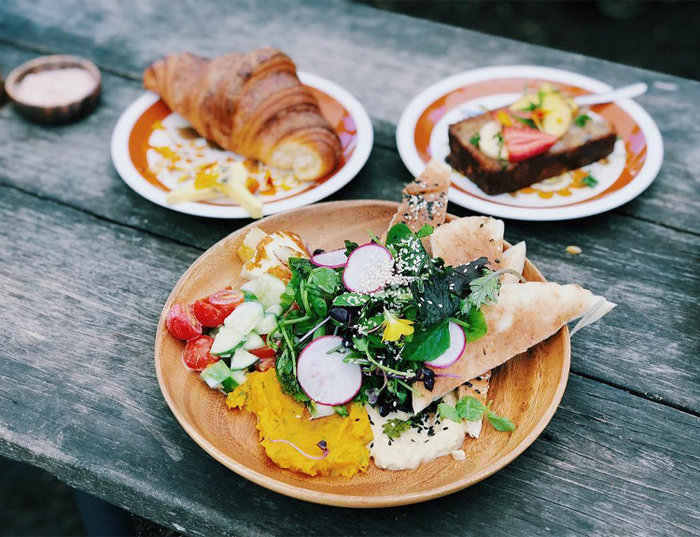 Folk Byron | @marcellabade
Dip Into Breakfast
Whatever time your day begins, start it off right with all-day breakfast at Dip Café. In addition to the classics you know and love, the menu also offers more out-there selections like the mushroom stack and eggs Russian — all of it delicious. For dinner, keep it casual and try another local favorite: Miss Margarita, which more than lives up to its name. There are margs and other fun imbibements, of course, as well as some of the best tacos, nachos, and burritos to be found Down Under. Then there's Folk Byron Bay, a plant-based restaurant that prides itself on being organic, local, and ethical — not to mention delicious.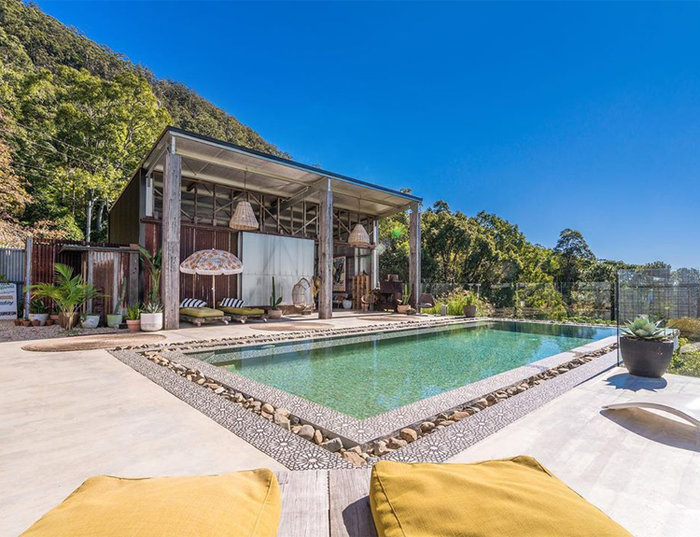 #blackbirdbyron | @blackbirdbyron
Live Like a Lord
You'd be hard-pressed to find a more beloved place to stay than the Lord Byron, a centrally-located resort that has endeared itself to many a heavy sleeper with complimentary late checkouts for all guests. With bright, airy rooms and bikes and paddleboards to rent when you're ready to venture away, it captures Byron Bay's relaxed vibe like few other spots. For a more boutique experience, go with Blackbird Byron. Guests are greeted with bubbles and olives upon arriving to their detached pavilions, which also come with complimentary chocolate, wine, and a cheeseboard. The views are stunning, ditto the pool, and by the time you check out you'll be wishing you could extend your stay.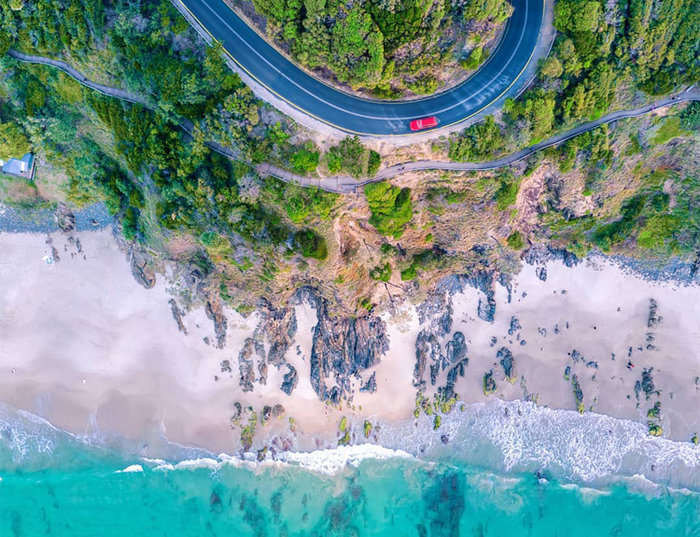 Byron Bay, New South Wales | @britinbrisbane
Get Wrecked
"I highly recommend watching the sunset by The Wreck. You have a perfect view of the beach." – @cstoppy
Just Passing Through
"The iconic surf spot The Pass is worth a visit, as it has a cute lookout spot where you can watch the surf and dolphins that are usually there!" – @blaze_angel
Wanna Go to Wategos
"I would definitely recommend that everyone who visits Byron Bay takes advantage of the sun and heads down to the famous Wategos Beach. When you're there, you have the option to stroll to the top of the Lighthouse lookout, located at Australia's most easterly point." – @emmmasheridan