A costa adriática da Croácia é um parquinho para os viajantes, mas se quiseres saber como é a vida dos moradores locais, vai para Split. Aninhada no coração da Dalmácia, esta cidade é viva e autêntica - e nesta era do turismo livre, é uma lufada de ar fresco. Com o mar azul-turquesa à tua frente e as montanhas verdes nas tuas costas, a mistura de beleza natural e características históricas da cidade cria a combinação perfeita para o viajante versátil.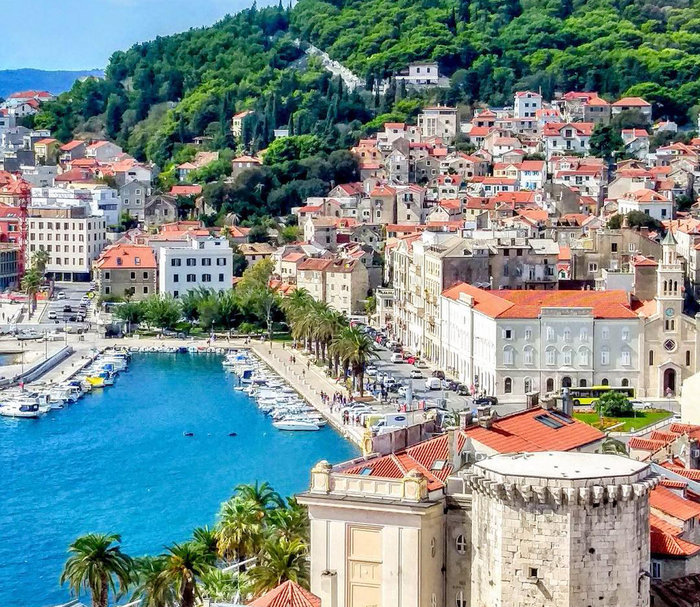 Split, Croatia | @viajando_uno_es_feliz
Croatia's Adriatic coast is a traveler's playground, but if you want a sense of what life is like for locals, head to Split. Nestled in the heart of Dalmatia, this city is alive and authentic — and in this era of overtourism, it's a breath of fresh air. With the turquoise sea at its front and green mountains at its back, the city's mix of natural beauty and historical features creates the perfect blend for the versatile traveler.
Fun Fact:
Although a settlement existed in this location long before the Romans, the city's founding is credited to Diocletian, the Roman emperor from 284 to 305, whose palace remains a central point in the city today. A century later, the palace was also the site of Roman emperor Julius Nepos's assassination.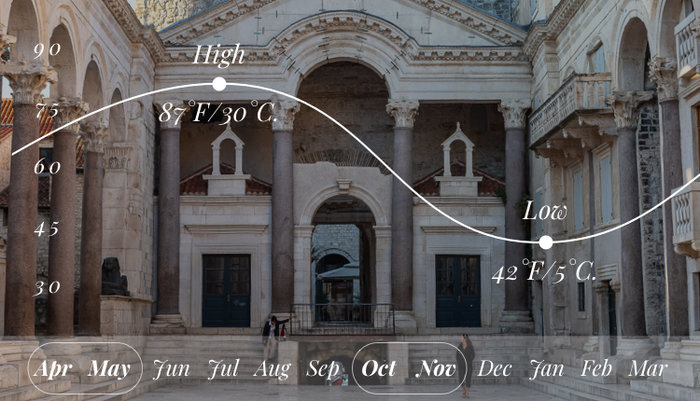 @blinkingmoments
April–May and October–November
Unlike many other tourist-heavy destinations in Croatia, Split doesn't shut down during the off-season. You'll always find something happening in this vibrant city, and with mild weather year-round, there's never a bad time to visit. Travel in the shoulder seasons, spring and fall, for peak enjoyment.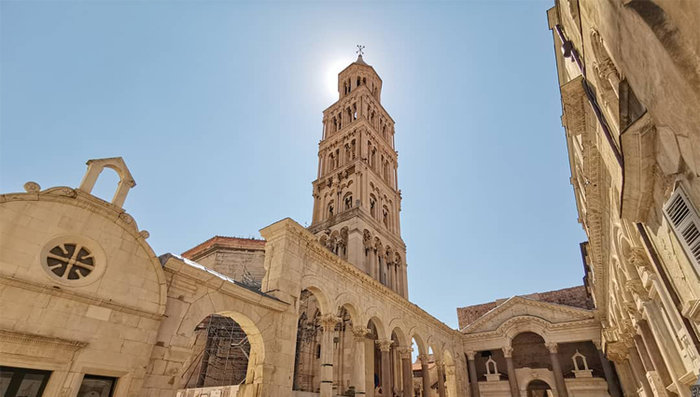 Diocletian's Palace | @crispaquera
On the Steps of the Palace
At the heart of Split is Diocletian's Palace, one of the best-preserved pieces of Roman architecture in the world. Originally, the structure was part luxury villa, part military camp, but today it's a world unto itself. Stop by the cathedral and Temple of Jupiter before heading underground to the substructures (which also happen to be Game of Thrones sets). For more history, make the trek to Klis Fortress for stunning views and ancient ramparts. Or stroll the coastal gardens of the Meštrović Gallery, to complete your royal visit.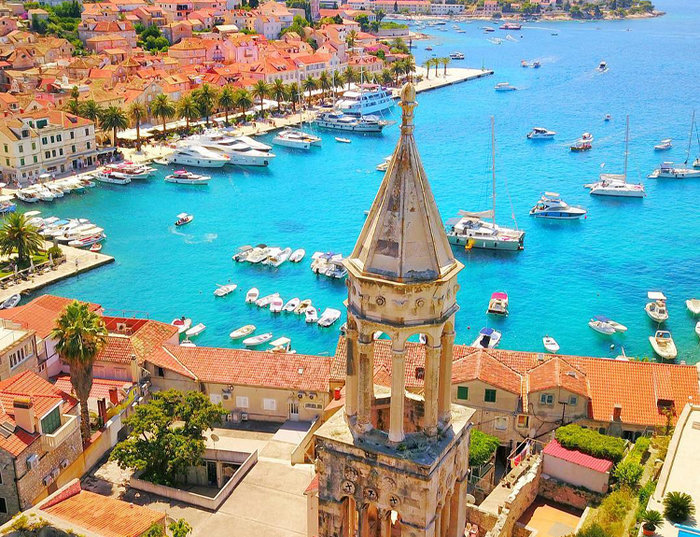 Hvar, Splitsko-Dalmatinska, Croatia | @secretagent_wesanderson
How Hvar I'll Go
Split, like most Croatian cities, has its share of stunning swim spots, from the popular city beach Bačvice to the quieter Ovcice and Trstenik beaches. But for those who want some extended time on the water, take the ferry or a private boat to nearby islands. The most popular destination is Hvar, a mix of nightlife and stunning scenery. Explore hidden water caves or hike along the coast during the day and party in the clubs along the water at night. Or find yourself at Vis, a main filming location for Mamma Mia! Here We Go Againthat features old town charm and mellow beach vibes.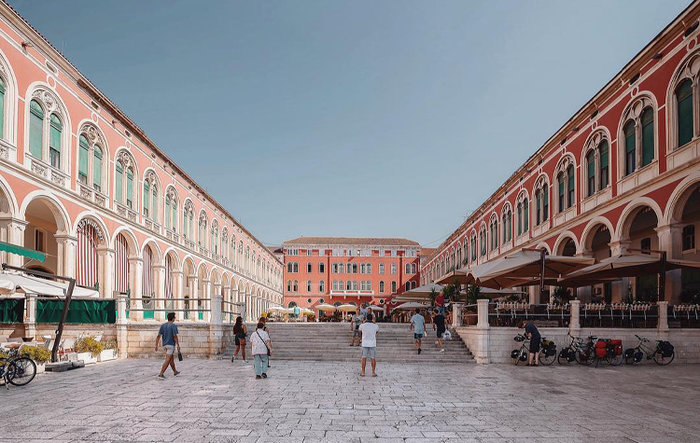 #croatiafulloflife | @ufukd_86
People Passing
While the palace is the center of life in the city, it's not the only place worth exploring. Spend an extended afternoon on the Riva waterfront promenade. Park yourself in a cafe and people watch while sipping cocktails and enjoying the Croatian sunshine. For a more active pace, walk along Marmont street for brand-name shops, art galleries and the popular fish market. When the sun is setting, make your way to Matejuška, a fisherman's harbor that serves as a popular place to hang out and socialize, especially for the younger crowd.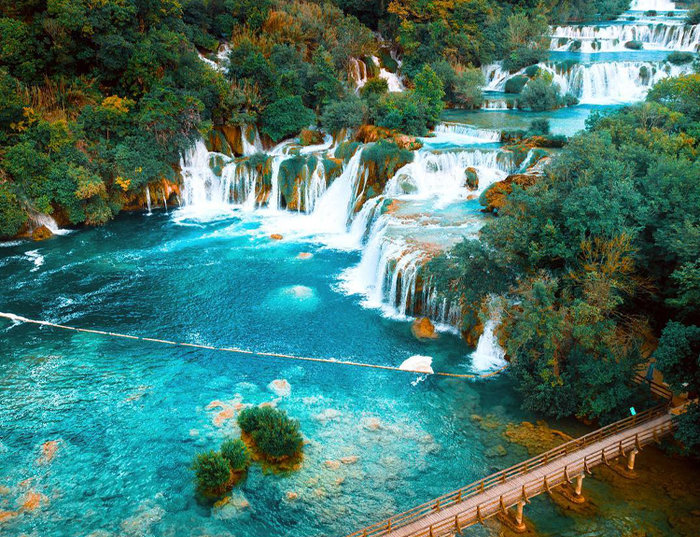 Krka (Croatia) | @mblockk
The Lungs of the City
Dalmatia is home to some stunning scenery, and you won't have to travel far to enjoy it. Close to the city is Marjan Hill, a national forest that offers beautiful views of the harbor and city. With scenic viewpoints and hiking paths winding through shady pine trees, it's the perfect escape from Split's urban core. If you want to get even farther away from the city, take the drive to Krka National Park to view stunning waterfalls and take a swim. The Hvar Mountains are also close by if you need more challenging hikes.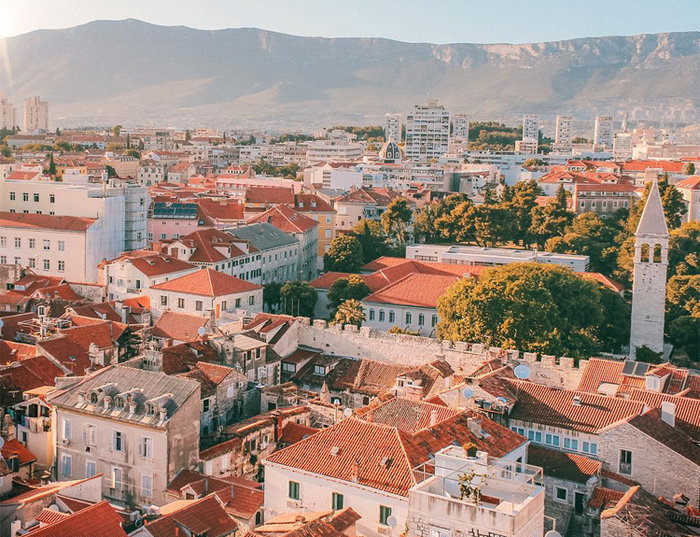 @zetheworld
"This photo was taken from the iconic bell tower of Cathedral of Saint Domnius. It is around 60 meters high and you are able to climb right to the top! The stairs start out wide and then turn quite narrow when you go further up with a metal staircase at the top. Although we did pass a lot of scared looking tourists taking their time; the breathtaking view of Split from above was well worth it! As we descended back down the bells started ringing which made us all jump - but it was a great way to end! Definitely a must do for anyone visiting Split!"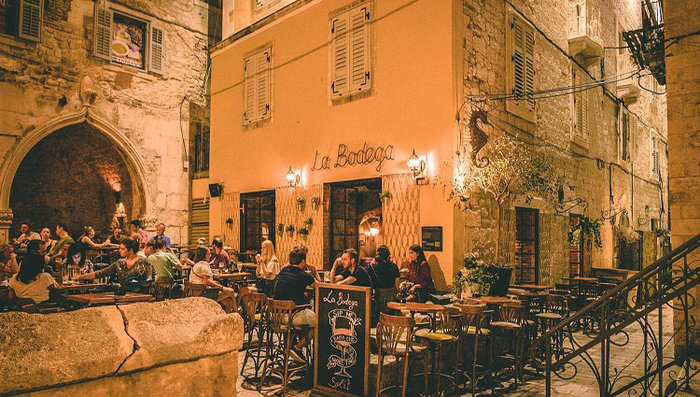 La Bodega Split | @freddywinter
Split the Check
Eating your fill in Split is not a problem. Start the day right with pancakes slathered with Nutella or covered in powdered sugar from Bajamina, an affordable and incredible pancake spot in the city. For lunch, find yourself at one of the Riva promenade cafes to people-watch. We recommend Zoi for stylish plates and cocktails. At dinner, slip deeper into the maze of streets for drinks at La Bodega or a meal at Bokeria Kitchen and Wine.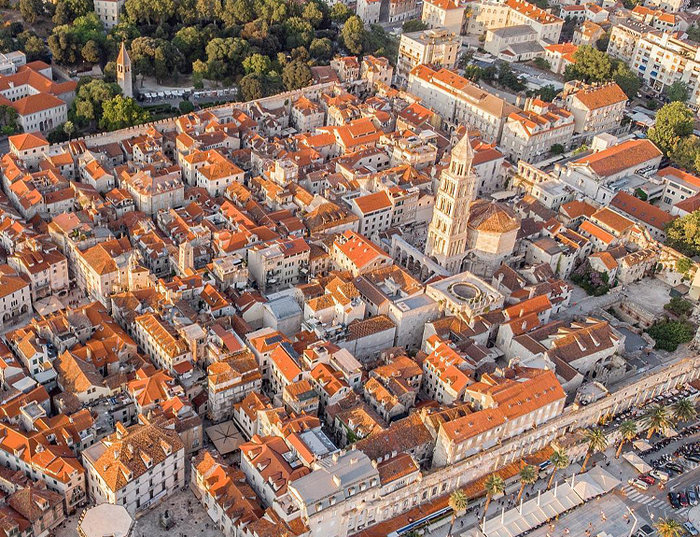 #splitcroatia | @mar.tography
Market Time
"When visiting Split, I recommend visiting the central market because there you'll find local people, fresh food, vivid atmosphere and you will understand what Dalmatia really is. Soon you'll start to feel like you are local, you will forget your stress, problems and issues." – @tatjana_pecek
Fall in Love
"The feeling of sunlight, gorgeous architecture, opulent history alongside the sea breeze is certainly something that will be captured in your memory forever. Once you fall in love with Split, you will be longing to return!" – @zetheworld