Bruges pode ser conhecida como a cidade de conto de fadas da Europa, mas não é a única cidade belga que parece vinda diretamente de um livro de histórias. A irmã mais nova Ghent reúne a fantasia de Bruges e a vida da cidade de Bruxelas, acrescentando seu próprio charme medieval. Canais sinuosos, pontes pitorescas, igrejas e castelos medievais enchem as ruas. Mas não confundas Ghent com uma simples tour histórica. Com uma cena jovem e vibrante, esta cidade flamenga é uma descoberta encantadora.

BELGIUM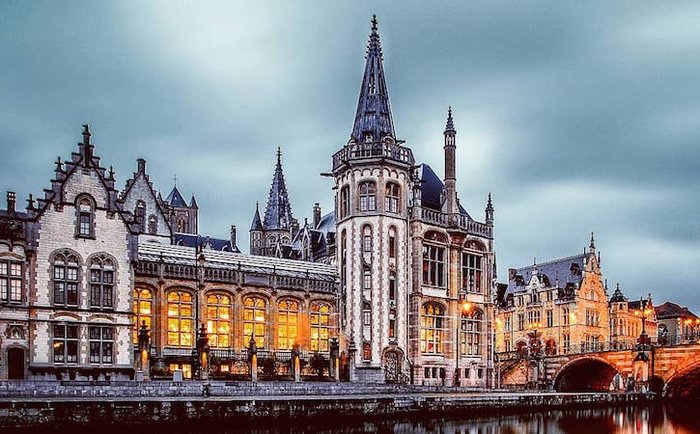 Ghent, Belgium | @mikaelyanhayk
Brugge may be known as the fairytale city of Europe, but it's not the only Belgian city that appears straight out of a storybook. Little sister Ghent brings the dreaminess of Brugge and the city life of Brussels together, adding its own medieval charm. Winding canals, picturesque bridges, medieval churches and castles fill the streets. But don't mistake Ghent for a mere history tour. With a young and vibrant scene, this Flemish city is a charming discovery waiting to happen.
Fun Fact
Ghent is one of the most vegetarian-friendly cities in the world, observing Veggie Thursdays (Donderdag Veggiedag) where around 50% of the populationeats vegetarian for the day.

Pssst! Ghent is the English spelling. Don't be surprised if you see it spelled Gent or Gand - these are the Flemish and French spellings.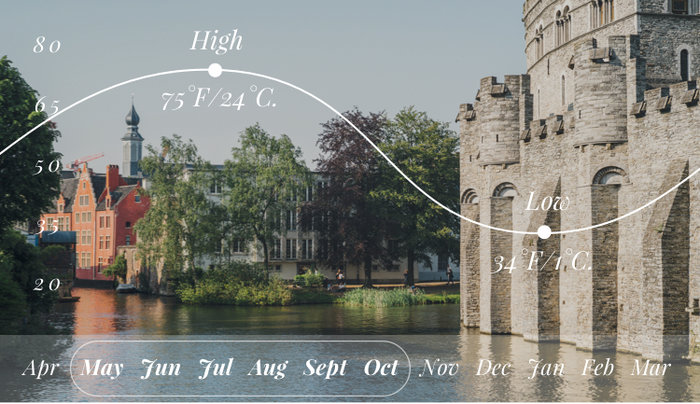 @timdavhen
May - October
Never too cold, hot, dry, or humid, Ghent sits comfortably for most of the year. Like most European cities, however, Ghent is best enjoyed when the weather is sunny and warm, May to October. For a uniquely Ghent experience, Gentse Feesten (Ghent Festival) takes place over 10 days in July and you can party it up with the entire city. If you want to avoid the crowds, though, visit in the fall before the temperature turns.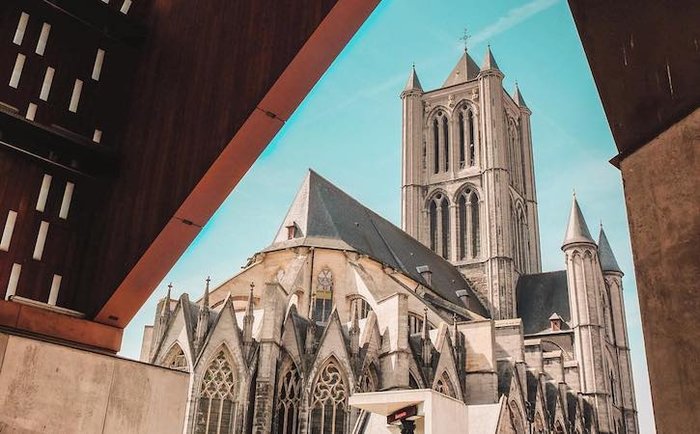 Saint Nicholas' Church, Ghent | @gorgeous_globe
Knight Life
Ghent hit its heyday in medieval times, and exploring the remnants of its 12th century past is a must. The must-sees of the tourist circuit include Gravensteen Castle, the medieval fortress perched on the river Leie, St. Nicholas' Church, and Saint Bavo's Cathedral. Saint Bavo's contains the crown jewel of Flemish art: the altarpiece of Van Eyck's The Adoration of the Mystical Lamb – a centerpiece of the story behind the film The Monuments Men. If that's not enough for you, climb the Ghent Belfry tower for a spectacular view of Ghent, or take a day trip to Laarne Castle for more fortress adventures.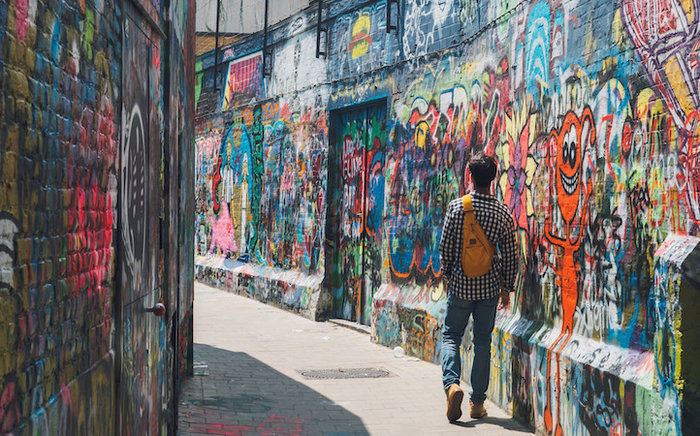 Graffitistraatje Gent | @timdavhen
You Call This Art?
If you're short on time and want to experience the entirety of Ghent art in one afternoon, all you need are two museums – The Museum of Fine Arts and SMAK. These contrasting museums present different faces of Belgian art, from medieval Flemish work to modern expression. As opposite as their contents are, you can't visit one without seeing the other during your stay. If you have more time in the city, make the trip to the Museum of Dr. Guislain, which presents exhibits on psychiatry and art in Belgium's first mental asylum. Then stroll through Graffiti Street, a special corridor in the city set aside specifically for street artists, before ending your artistic tour at the Design Museum Ghent.
If you're short on time and want to experience the entirety of Ghent art in one afternoon, all you need are two museums – The Museum of Fine Arts and SMAK.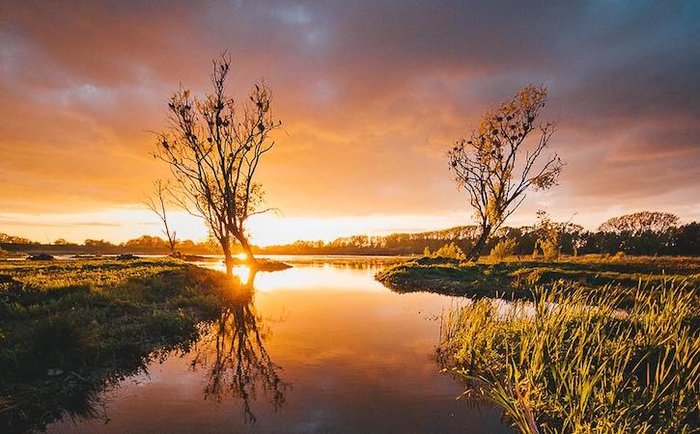 Bourgoyen-Ossemeersen | @kevindevogele
Au Natural
Part of Ghent's modern magic lies in its devotion to ecotourism and emphasis on green spaces. Within the city there are numerous parks, like the artistic Citadel Park, and even small green corners like Appelbrugparkje that offer shady areas for weary walkers. If you need to get out of the city, explore Flanders, the surrounding region, which is home to the Bourgoyen-Ossemeersen Nature Reserve. This marshy park is spectacular for bird lovers who can watch the yearly migration, or city-worn travelers who just want a place to watch the sunset.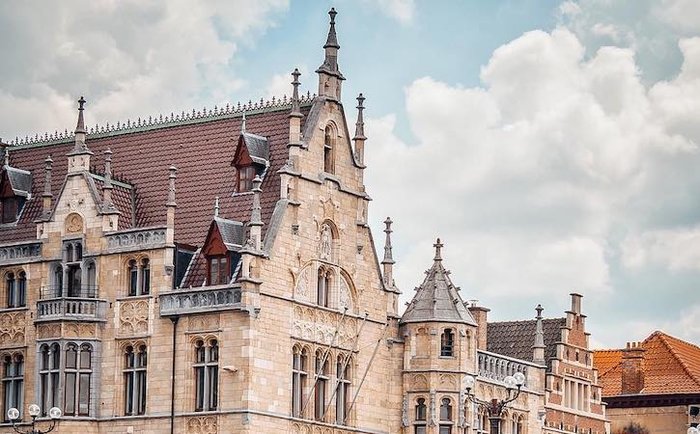 St Michael's Bridge | @travelerschild
Can You Walk the Walk?
As with any vibrant city with a plethora of historical monuments, gorgeous architecture, and bustling neighborhoods – a walk is in order. If you follow the de Leie river, you'll pass through the best parts of Ghent, from the picturesque Graslei, up through the historic Patershol neighborhood. Discover the best architecture, cafes, and boutiques before picking a market to wander. Our favorites include the flea market in St. Jacobskerk Square, the secondhand book market, or the upscale flower market. If walking isn't your thing, hop on a boat and view the city from the canals. Like its sister Brugge, Ghent has a latticework of canals crossing the city, but unlike Brugge, a boat tour will not break the bank. Hop aboard a boat, a kayak, or even a paddleboard to see the city from a fresh perspective.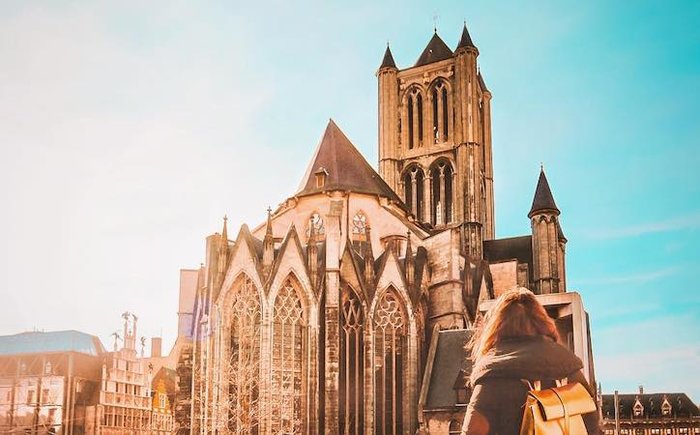 @vitor.esteves
"It was a shiny, cold winter afternoon when we arrived in Ghent. Born and raised in Portugal, we weren't acquainted with negative temperatures like the ones we found in the capital of the East Flanders. But that didn't restrain us from our desire to explore those vivid streets. Ghent is so full of Romanesque and Gothic wonders, and Saint Nicholas' Church is the best proof of that, in our opinion. A prominent landmark of the city since the 13th century."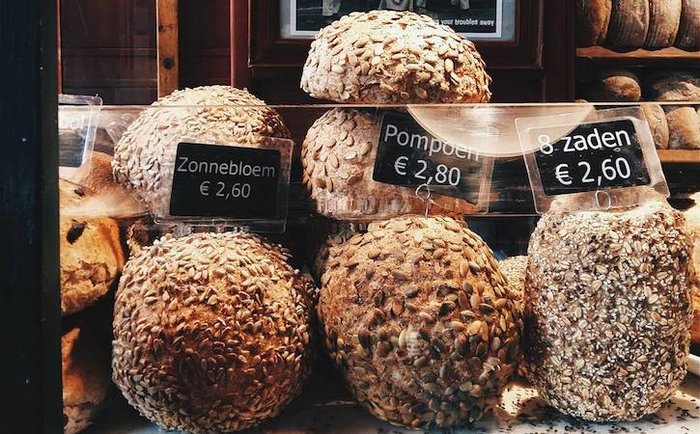 Bakkerij Himschoot | @vlkaric
More Than Belgian Waffles
It's Belgium, so of course you can't escape Ghent without chowing down on your fill of chocolate and Belgian waffles. But don't stop there. Pick up a mastel, a classic Ghent pastry, or any other delicious baked goods at Bakkerij Himschoot. Then treat yourself to a bag of cuberdons, a nose-shaped candy, to satiate your sweet tooth. For a hearty dinner, try waterzooi, a meat or fish stew that many restaurants put their own spin on. Make a reservation at De Rave, a classic upscale restaurant, or, if you're in town on Thursday, join the locals for a vegetarian dinner at Lokaal. For drinks, visit Ghent Gruut Brewery to test locally-brewed Gruut beer, or sit in Pub de Dulle Griet, a historic tavern with a massive selection of beer to wet your whistle.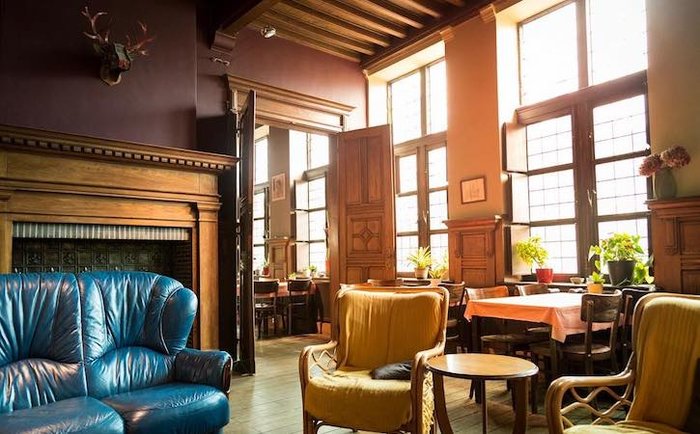 Hostel Uppelink | @dresssidestory
Live Like Royalty
Ghent has many classic hotels that will make you feel like Flemish royalty. Stay at the historic Ghent River Hotel, perched right on the River Leie and walking distance from the central attractions. This reformed cotton factory blends luxury and industry. The best part is you can reach the hotel by boat. For something more affordable, Hostel Uppelink also enjoys a central location in a historic building, at an inexpensive price.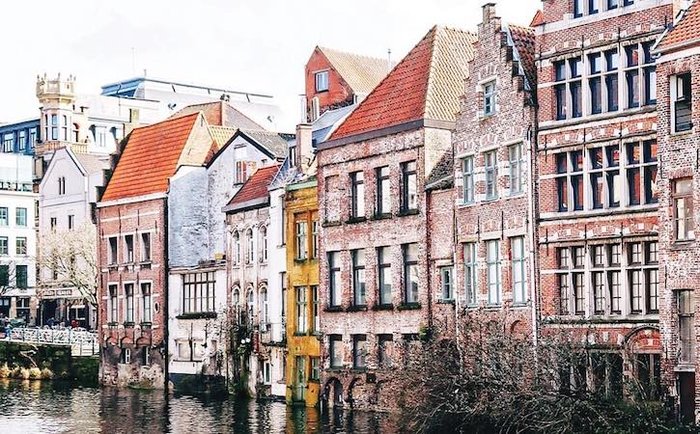 #visitgent | @urbanpixxels
What Time is It?
"Visit the Belfry of Ghent at 12 a.m. to watch how perfectly the ancient clock works and listen to the bells announcing the time. Also, you will see an amazing aerial view of Ghent." - @evgenij_gomenjuk
Stock Up
"Visit Tierenteyn-Verlant for the "best mustard in the world" made in the basement and bottled to order along with pickles, herbs and more in a gorgeous shop." - @globalscoutkara
Watch Your Step
"The city is paved with uneven cobblestones. I always notice that a lot of people don't expect that and come to visit the city with unfit shoes, resulting in them tripping a lot!" - @timdavhen